A full overview of all adventure games released in the Don't Escape Series. These can be episodes, remakes/remasters or sequels, created by either one or several companies. As long as the IP is used, we'd quantify this as part of a 'series'.



I woke up in a room… It is not locked and I remember everything. I'm a werewolf. Tonight I will turn and people will die… unless I find a way to prevent myself from escaping this place.
» Full game details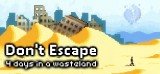 Following a bizarre cataclysmic event that cracked the moon in half, the Earth is struggling with the environmental fallout. Everything is already dead or dying… except you. Or so you think. The choices you make determine how everything plays out. You'll need to choose what to do to ...
» Full game details

Waking up in an airlock about to be ejected into space, a man scrabbles to save himself. Inside he finds carnage, and the truth may make him wish he had not survived.
» Full game details

The zombie apocalypse came two weeks ago, and you and your friend Bill have been on the move ever since. With Bill bitten, you have only 8 hours to secure a refuge before a horde descends on you. Can you build sufficient defences in time?
» Full game details