A full overview of all adventure games released in the Oceanspirit Series. These can be episodes, remakes/remasters or sequels, created by either one or several companies. As long as the IP is used, we'd quantify this as part of a 'series'.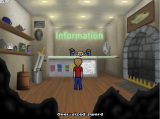 With a nameless doom threatening his village, Ray is sent out to seek legendary hero, Oceanspirit Dennis. But the guardian of the only bridge to Dennis' home kicking Ray's butt, it looks like he needs his special ability to pass. Time to collect some Manners Points to power it up
» Full game details
The king is dead, and Denlet, Prince of Menmark has returned to his home castle. But foul play is afoot, and Denlet must uncover the wicked machinations of his uncle. Using the fine poetry of Shakespeare, and a sword the size of his whole body, Denlet will get to the bottom of this.
» Full game details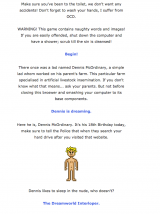 The Long Ass Walk is a short interactive story about a young lad named Dennis Average McOrdinary, and his quest to bring back the Oceanspirit to save the world of Questeros!
» Full game details