1899 Steam and Spirit Series
A full overview of all adventure games released in the 1899 Steam and Spirit Series. These can be episodes, remakes/remasters or sequels, created by either one or several companies. As long as the IP is used, we'd quantify this as part of a 'series'.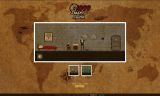 In a steampunk version of 1899, Winston Churchill prepares himself for a top secret mission in Algiers. First he must put together the equipment he needs to disembark from the English submarine, Leviathan.
» Full game details