Hector: Badge of Carnage Series
A full overview of all adventure games released in the Hector: Badge of Carnage Series. These can be episodes, remakes/remasters or sequels, created by either one or several companies. As long as the IP is used, we'd quantify this as part of a 'series'.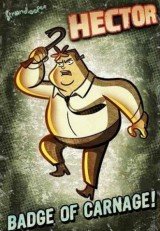 The fat, slovenly Detective Inspector Hector is hunting a psychopath and is pulled down a twisted trail of meat, sin, sleaze, and more meat in the world of Clappers Wreake - the crime-ridden armpit of Great Britain.
» Full game details
Hector, the hard-nosed, soft-bellied lawman of Clappers Wreake, a town that took the "Great" out of Britain, is back after being left in deadly peril at the conclusion of the previous episode. Can Hector escape his squalid seeming demise and stagger back to save the town from being wiped o...
» Full game details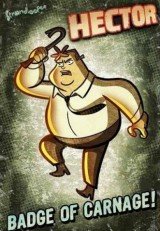 The three-part comic crime spoof stars Detective Inspector Hector, a flawed, misanthropic anti-hero who is rather unaffectionately known as the "fat arse of the law". In Badge of Carnage, a hostage crisis in the city of Clappers Wreake (crime capital of Britain) breaks out, leaving Hector...
» Full game details