Sherlock Holmes DS mysteries Series
A full overview of all adventure games released in the Sherlock Holmes DS mysteries Series. These can be episodes, remakes/remasters or sequels, created by either one or several companies. As long as the IP is used, we'd quantify this as part of a 'series'.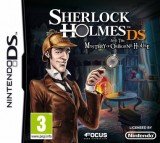 In the first original Sherlock Holmes DS adventure, Queen Victoria's genealogical records are stolen, and the Royal Family puts Holmes in charge of the case and asks him to solve this strange mystery, assisted by his wise and faithful friend, Doctor Watson.
» Full game details
Become Sherlock Holmes as you embark on a remarkable adventure. Investigate the mysterious case of a missing archaeologist and a valuable Egyptian mummy in turn-of-the-century England. What begins as a simple case quickly becomes a web of intrigue, robbery, priceless artifacts, and murder. Your s...
» Full game details
When a mysterious snowstorm falls on London, so cold that even the Thames is starting to freeze, Sherlock Holmes, the most astute detective of all time, is called in to investigate.
» Full game details