A full overview of all adventure games released in the Pajama Sam Series. These can be episodes, remakes/remasters or sequels, created by either one or several companies. As long as the IP is used, we'd quantify this as part of a 'series'.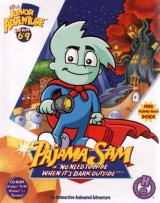 There's no reason to be afraid of the dark, as Sam's about to find out. Fed up with his fear of the dark, Sam transforms himself into Pajama Sam, the world's youngest superhero, and resolves to confront Darkness. With help from King the mine car, Otto the boat, and a host of fascinating characters, ...
» Full game details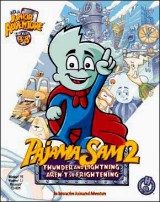 Join Pajama Sam, the world's youngest superhero, as he journeys to World Wide Weather, the storm-stirring factory in the sky. Sam's spent one too many evenings cowering under the couch, so he sets out to conquer his fear of thunderstorms. It's amazing what he finds high above the clouds. Just as our...
» Full game details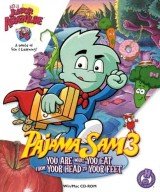 Pajama Sam chases down some snickering cookies, only to find himself in the midst of a food squabble! Now, it?s your turn to spring into action to help Pajama Sam find the missing delegates, put a stop to the sticky quarrels, bring peace to MopTop Island, and still make it home in time for dinner.
» Full game details
Sam's bedroom is a mess! Lost among the piles of clothes and toys is his prized comic book. Donning his red cape, Pajama Sam dives into the chaos only to land in a strange and fantastic world that resembles his messy room. Pajama Sam sets off on a series of adventures in search of his lost co...
» Full game details