Adventure Gamers - Forums
Welcome to Adventure Gamers. Please Sign In or Join Now to post.
You are here: Home → Forum Home → Gaming → Adventure → Thread
Post Marker Legend:
New posts
No new posts
Adventure Game Scene of the Day — Sunday 9 February 2014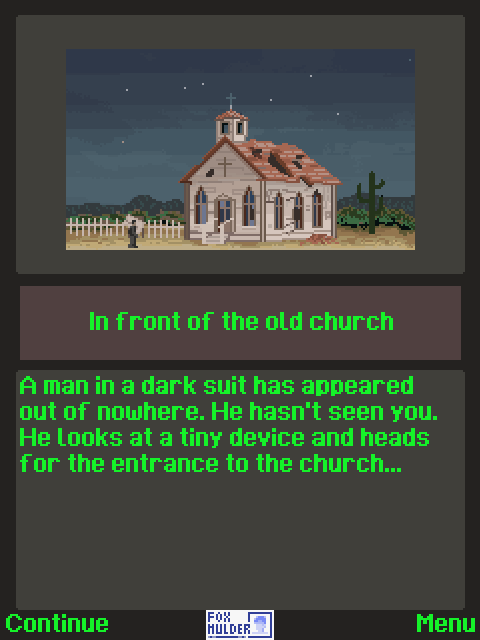 I just realized today that I have yet to post a shot from a game made for a portable device, hence this shot from The X-Files: The Deserter (2004). This game was made by House of Tales, the company that developed The Moment of Silence and Overclocked: A History of Violence.
The thing to keep in mind is that this is a cellphone game from a time when phones weren't really all that smart yet and the game is quite limited because of this. Its complexity is about on par with an early 90s game. At best. It utilizes an icon based verb bar with drop down menus to get around the lack of a mouse and is a simple inventory puzzle based game. Other than a little quirkiness due to the interface, it's actually not that bad all things considered.
You control both Mulder and Scully in an investigation concerning a murder that leads to the discovery of a top secret government program to create super soldiers. Essentially, Mulder does the field work while Scully works the lab.
Well, at least you DO control Mulder and Scully, and not some Agent Whatshisname.
Recently finished: Four Last Things 4/5, Edna & Harvey: The Breakout 5/5, Chains of Satinav 3,95/5, A Vampyre Story 88, Sam Peters 3/5, Broken Sword 1 4,5/5, Broken Sword 2 4,3/5, Broken Sword 3 85, Broken Sword 5 81, Gray Matter 4/5\nCurrently playing: Broken Sword 4, Keepsake (Let\'s Play), Callahan\'s Crosstime Saloon (post-Community Playthrough)\nLooking forward to: A Playwright's Tale
Welcome to the Adventure Gamers forums!