Adventure Gamers - Forums
Welcome to Adventure Gamers. Please Sign In or Join Now to post.
You are here: Home → Forum Home → Gaming → Adventure → Thread
Post Marker Legend:
New posts
No new posts
Currently online
Adventure Game Scene of the Day — Friday 10 January 2014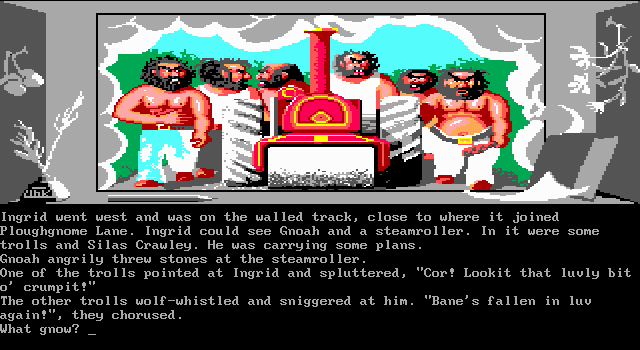 Ingrid's Back! (1988) (a.k.a Gnome Ranger 2) is an old comedic text adventure by Level 9 Computing about a gnome trying to save her town from being torn down by a greedy developer.
I've never played the game, but I've always liked the graphics and the silliness of the text I've read.
I keep hitting the escape button, but somehow I'm still here.
Level 9, that brings back memories.
I loved their games back in the day. They were the UK's Infocom.
An adventure game is nothing more than a good story set with engaging puzzles that fit seamlessly in with the story and the characters, and looks and sounds beautiful.
Roberta Williams
The only Level9 game I played was Knight Orc. It had random events occurring all the time and I didn't like it at all.
Welcome to the Adventure Gamers forums!