Adventure Gamers - Forums
Welcome to Adventure Gamers. Please Sign In or Join Now to post.
You are here: Home → Forum Home → Gaming → Adventure → Thread
Post Marker Legend:
New posts
No new posts
Adventure Game Scene of the Day — Tuesday 17 September 2013
Today we have a shot from Eko: Strange New World (2011), an indie game that is supposed to be the first of an episodic series, but a second episode seems to be nowhere on the horizon so it's probably dead. I thought it was okay, albeit overpriced for what you get.
Reminds me a bit of that cancelled Cassius Pearl: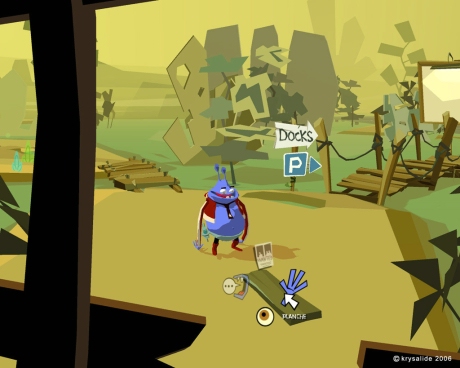 or Dirty Split, with its graphic style.

And speaking of games which released its first episode and then disappeared off the face of the earth, how about The Tales of Bingwood?
Recently finished: Four Last Things 4/5, Edna & Harvey: The Breakout 5/5, Chains of Satinav 3,95/5, A Vampyre Story 88, Sam Peters 3/5, Broken Sword 1 4,5/5, Broken Sword 2 4,3/5, Broken Sword 3 85, Broken Sword 5 81, Gray Matter 4/5\nCurrently playing: Broken Sword 4, Keepsake (Let\'s Play), Callahan\'s Crosstime Saloon (post-Community Playthrough)\nLooking forward to: A Playwright's Tale
Welcome to the Adventure Gamers forums!