Adventure Gamers - Forums
Welcome to Adventure Gamers. Please Sign In or Join Now to post.
You are here: Home → Forum Home → Gaming → Adventure → Thread
Post Marker Legend:
New posts
No new posts
Adventure Game Scene of the Day — Sunday 11 August 2013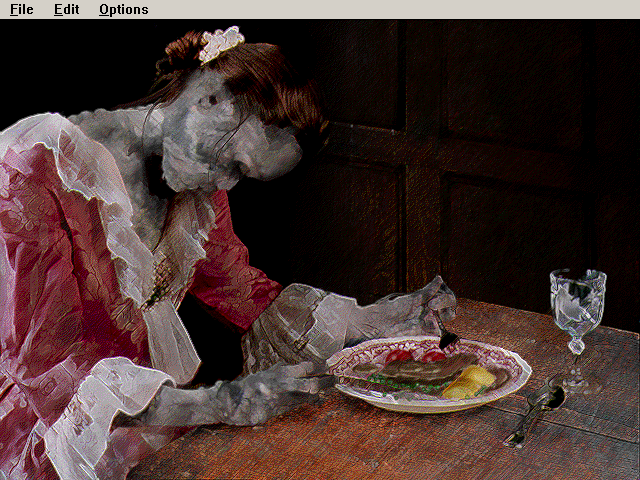 Today's scene depicts what happens when one's mind snaps when faced with the death of a loved one and then refuses to accept it. The game is Ghosts (1995), an edutainment title starring Christopher Lee, the acclaimed actor most well known for his roles in horror films and as Dracula in particular.
This barely qualifies as a game (though it fares better than The Rolling Stones: Voodoo Lounge) in that it only has one inventory item (a key), two puzzles and no endgame. You just wander around a virtual haunted mansion reading about ghosts, watching videos of ghost hunters and skeptics discussing them, and having Christopher Lee comment on various things.
The highlight of the game is definitely the half dozen ghost stories that are narrated by Christopher Lee, accompanied by predominantly digitally painted photos of the events he describes. The scene above is from one of those stories. The environments are nice as well.
This title is actually pretty decent if you like the subject matter and don't mind the lack of any real challenge. There's a lot of material to sift through and it's presented well.
Welcome to the Adventure Gamers forums!