Adventure Gamers - Forums
Welcome to Adventure Gamers. Please Sign In or Join Now to post.
You are here: Home → Forum Home → Gaming → Adventure → Thread
Post Marker Legend:
New posts
No new posts
Currently online
Adventure Game Scene of the Day — Wednesday 29 May 2013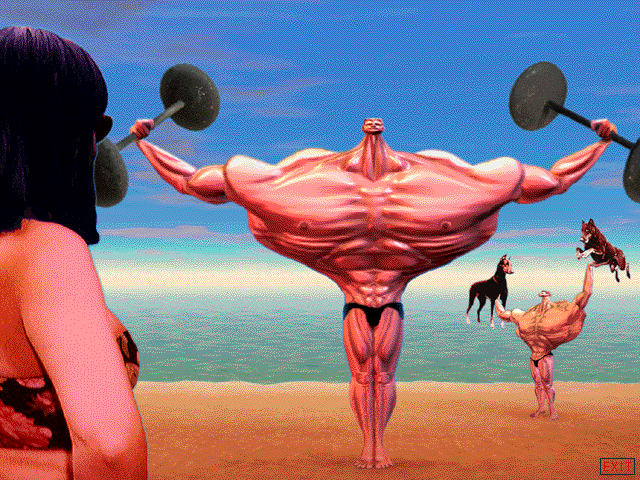 The Residents: Bad Day on the Midway (1995) is another bizarre game published by the same company as Adventures of the Smart Patrol. It's kind of like Faust (Seven Games of the Soul) in that you get an uncomfortable look into the minds of carnies and side-show freaks and a bit like The Dark Eye in that you experience these viewpoints by switching back and forth between different characters in the game.
As you walk about as these characters, their stream-of-consciousness is displayed as text on the screen, giving you their personal insight into the other characters you meet and into their own minds. Whether their thoughts accurately reflect reality is another question entirely though and some of them have some rather dark secrets that they are hiding as well.
It's too bad that David Lynch never got to do the TV series that was planned. He would have been perfect for it.
As there are plenty of in-game shots on the Internet of this (including on this website), I chose a piece of surrealist art from a flashback to post instead.
Worth playing, do you think?
Worth playing, do you think?
That's actually a really hard question to answer. The reason is that this is definitely a case of art first and game second, meaning that it's unlikely that most people will like the actual gameplay and hence whether it is worthwhile becomes a purely subjective assessment of non-gameplay factors.
The game has no puzzles in the conventional sense. The game is timed. The game is somewhat randomized. The game is real-time and you need to be at certain places at certain times for certain events to happen, making some of the gameplay pure trial and error. You can and will die in various ways. You will probably have to play the game at least a half dozen times to experience a sufficient amount of it and a lot more if you really want to experience it all, although each playthrough is really short (about 30 minutes to an hour at most).
While I personally didn't care for the actual gameplay very much, I think the rest of the experience makes it totally worthwhile to play. However, the game really caters to my specific tastes in art and narrative. Does it cater to yours? I don't know. I recommend it, but it's definitely more of a gamble than most games.
Welcome to the Adventure Gamers forums!