Adventure Gamers - Forums
Welcome to Adventure Gamers. Please Sign In or Join Now to post.
You are here: Home → Forum Home → Other → Chit Chat → Thread
Post Marker Legend:
New posts
No new posts
Currently online
New Here? Introduce Yourself
Blade Runner is one my best 10 adventures of all time man.
Yup same here. Was actually my favourite game for a long time back in the day
Hi, Alex.  Welcome.
Hi Moram, welcome to the forums. I hope you have a good time here
Hi everyone. I'm a 31-year-old adventure-game-enthusiast from France. I've been reading Adventure Gamers for years but only started lurking on the forums a few months ago. I especially enjoy investigations and well-written comedy, but I'm willing to try out games from various genres as long as they're not too scary or action sequence-laden
. Pleased to meet you all!
Hi Nicky, welcome to the forums! I hope you enjoy it here.
Hi, Krister from Sweden here.
I grew up on adventure games like Monkey Island, Police Quest and you know, the classics.
My favorites in no order are Gabriel Knight, Beneath a steel sky and Grim Fandango.
I always plan to play more than I do but there are only so many hours in a day.
Hey there!
Jonas here, a thirty-hack-cough-blrrblr-year old guy from Sweden who loves playing and making adventure games. Always excited to hear about any new releases coming out!
I've lurked on the site on and off for a number of years and i am currently working on a oldschool point & click project in my spare time (you can check out some prototypes/experiments here: http://kaffebaggel.newgrounds.com/ if you'd like).
Hi. I'm Damian.
I'm a software developer since I was 13, a husband, a father of two lovely children and a fan of point & click adventure games.
The last 8 years
I've been working in my spare time on a iOS game named Argh! Earthlings!, mainly because I wanted to learn Objective-C. Year by year the game evolved and in the end a funny old-school point & click adventure game come out.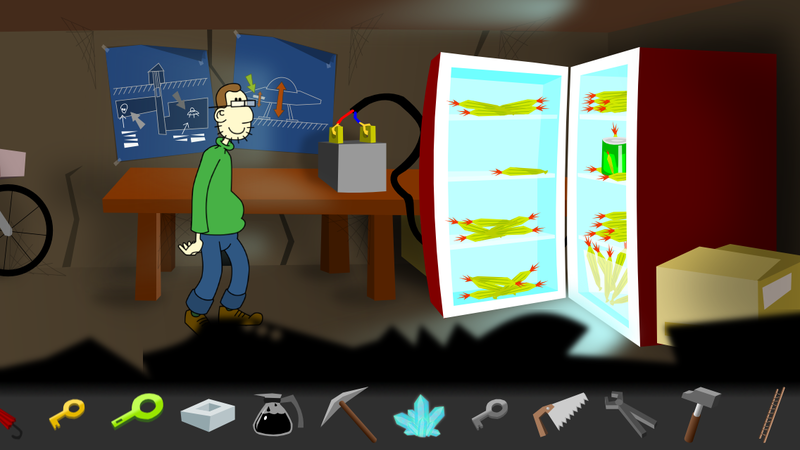 The game is listed in the Adventure Gamers game database already! Thanks to the AG team adding it!

https://adventuregamers.com/games/view/33642
The core adventure engine is one of my biggest private projects so far. I've been using Inkscape and Audacity to create all the graphics and sounds by myself. Today it is available in English and German on Apple App Store worldwide. But I plan to port the game to Android as well, starting winter 2017.
For further information, visit the project's site at arghearthlings.com/presskit.html (english).
If you're one of those, who already support me by purchasing Argh! Earthlings!, please let me know what you like and dislike the most in the game. I'm very interested in your opinion. Thanks for that!
If you want to know more about me, visit my blog at damianthater.com (german only).
Bye!
Hi, I'm SG from the UK.
Been gaming for years and have stumbled onto this site when looking for info on adventure games on twitter. Seemed nice, so I thought I'd join in.
I'm not the biggest adventure gamer, but when I do find a game in this genre I like I tend to find it dominates my time over new or "popular" games. I was first introduced to the genre from playing Broken Sword 1 on the PS1. I then found Broken Sword 2 and have kept discovering adventure since. I'd say the Broken Sword series is probably my favourite, but I'm sure there's plenty of other great games out there.
Hi SG, welcome to the forums! Broken Sword 1 and 2 are both very good adventure games. The ones after that rely too much on action and fast reflexes to my taste but the fifth episode was fun again. More adventure-like.
If you like detectives, try out the Tex Murphy games and Frogwares' Sherlock Holmes games!
Thanks tsa. I've heard of the Sherlock Holmes game by frogware but have yet to play them. Not sure mind, hehe. I can't seem to get into the Tex Murphy games sadly. I find the way they're designed with real people dressed up quite off putting for some reason.
Thanks though.
Hello all,
I am newbie here. I would like to say hello to this community. Please accept me guys.
Thanks for your time!
Hi MIke, welcome to the forums. What games do you like?
Hi guys, I'm the newest member of the crew. For my background, I'm a Web Designer at Petstreetmall which is an online store that sells pet supplies. My hobbies are playing computer games, watching sci-fi movies, and reading books well now it is a light novel on the internet now. I do hope to get along with everyone.
Welcome to the Adventure Gamers forums!