Adventure Gamers - Forums
Welcome to Adventure Gamers. Please Sign In or Join Now to post.
You are here: Home → Forum Home → Other → Chit Chat → Thread
Post Marker Legend:
New posts
No new posts
Currently online
https://www.bbc.co.uk/news/entertainment-arts-46186552
No more Marvel Cameos.
An adventure game is nothing more than a good story set with engaging puzzles that fit seamlessly in with the story and the characters, and looks and sounds beautiful.
Roberta Williams
R.I.P., Stan.
You provided many generations with adventure and inspiration through the power of imagination! Thank you!!!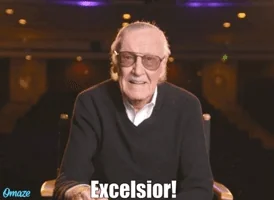 No more Marvel Cameos.
Didn't they film several in advance, specifically for this? I don't know how many they have in the archives, but we may still see a few cameos.
Last played: Oknytt (CPT) - 2.5/5 | Horizon: Zero Dawn - 4/5 | Marvel's Spider-Man - 4.5/5 | Freddi Fish 3: The Case of the Stolen Conch Shell - 3/5 | There Is No Game: Wrong Dimension (CPT) - 4/5 | There Is No Game (replay) - 4/5 | Broken Sword: The Shadow of the Templars (replay) - 3/5 | Lighthouse: The Dark Being (CPT) - 2.5/5 | Anna's Quest (CPT) - 4.5/5 | Simon the Sorcerer II: The Lion, the Wizard and the Wardrobe - 4/5 | Florence - 4/5 | Alice Trapped in Wonderland - 1/5 | The Hunt for the Lost Ship - 1.5/5 | The Talos Principle - 4/5 | Tex Murphy: Martian Memorandum - 3/5 | Danganronpa: Trigger Happy Havoc - 3/5 | Simon the Sorcerer (replay) - 4/5 | Portal 2 - 4/5 | Murder By Numbers - 3.5/5 | Heavy Rain - 3.5/5 | Disco Elysium - 4.5/5
Excelsior, Stan!
Lee had a surprisingly significant impact on my childhood (and still today from that foundation), as I'm sure he did on so many others. What a tremendous legacy.
At 95, it was a helluva run and a helluva life!
Not sure how far in advance they planned his movie cameos, but I'd think Captain Marvel and Avengers 4 are at least very possible.
Editor-in-Chief, some obscure little site called Adventure Gamers
He had an amazing legacy that has changed how people look at and perceive comics, from a children hobby to a worldwide all-age phenomenon.
I think this video captures most how I remember him. Always positive, always spreading joy till the very end:
Welcome to the Adventure Gamers forums!