Cyanide & Happiness Series
A full overview of all adventure games released in the Cyanide & Happiness Series. These can be episodes, remakes/remasters or sequels, created by either one or several companies. As long as the IP is used, we'd quantify this as part of a 'series'.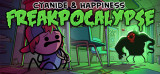 Cooper "Coop" McCarthy is on a quest just to keep his head down and make it to graduation without having to deal with an apocalypse. Sorry Coop, you're about to have a real rough year. He's joined by Sawyer Allen, an aspiring investigative journalist with a kn...
» Full game details