A full overview of all adventure games released in the Henry Stickmin Series. These can be episodes, remakes/remasters or sequels, created by either one or several companies. As long as the IP is used, we'd quantify this as part of a 'series'.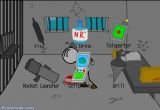 After his failed attempt at bank robbery, Henry Stickmin has been thrown in prison. Fortunately a well-wisher sends him a cake packed with escape tools. Will his escape be as beset by failure as his robbery?
» Full game details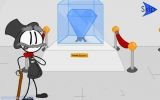 When a large Tunisian diamond is exhibited at the local museum, hapless thief Henry Stickmin plots to steal it. With his unfortunate history of robbing banks and escaping prison, painful failure is surely on the cards.
» Full game details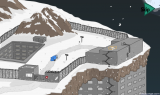 Famed criminal Henry Stickmin finds himself incarcerated in legendary prison, The Wall. Time for him to break out more wacky devices and hare-brained schemes as tries to escape a place rumoured to be escape-proof.
» Full game details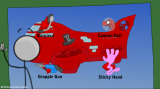 Hapless thief Henry Stickmin has attracted the attention of the government. Now they have enlisted his unique abilities to infiltrate the airship of the Tophat Clan. WIth a new variety of inadvisable gadgetry in his hands, will he be able to bring down this criminal organisation?
» Full game details