Putt-Putt is a series of computer games that was created by Humongous Entertainment in the 1990s. The series has been extremely successful and has sold over 20 million copies worldwide. The games are mostly geared towards children, with the exception of Putt-Putt Goes to the Moon, which was geared more towards adults. The Putt-Putt games are point-and-click adventures that primarily involve solving puzzles, exploring environments, and interacting with non-player characters.
The Putt Putt video game is an adventure game that takes place in the fictional town of Cartown, where for instance the player needs to help Pep, Putt-Putts pet dog, find all his bones. The player needs to explore different locations and interact with objects in order to solve puzzles and progress through the game. There are many different adventure games in this series.
In this section we will be going through a full overview of all adventure games released in the Putt-Putt Series. All the Putt Putts can be purchased on GOG.com, HumbleBundle or Amazon. Below you'll find direct links of where to purchase each title.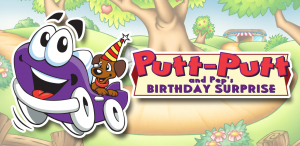 It's Pep's birthday and Putt-Putt wants to surprise him with his first birthday party ever! Join Putt-Putt as he travels through Cartown, helping various residents, reaping rewards, and gathering supplies for the party. With new friends to meet and new problems to solve, kids will love helping Putt-Putt get everything ready in time for the big surprise--a birthday cake, presents, decorations, and friends!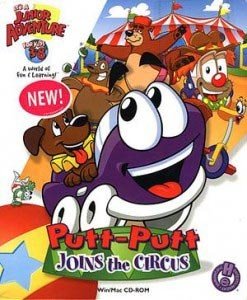 Mr. B.J. Sweeney needs you and Putt-Putt to help his five main acts get ready for the show.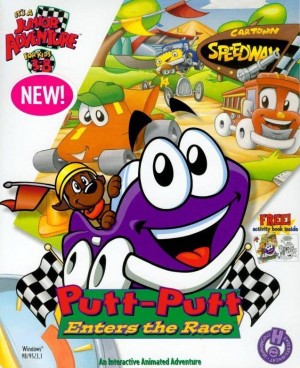 Today's the big day as our curious little convertible prepares for the Cartown 500. Redline Rick is eager to start the race but Putt-Putt and Pep need a few items before they are ready to roll.
Mr. Firebird's time machine has gone haywire and Putt-Putt's best pal Pep is somewhere lost in time. Explore new dimensions and discover surprising new friends. Meet Ms. Brachiosaurus -- she holds the key to unlocking the secrets of the dinosaurs. See what pans out when you visit Silverado Sam, the prospector from the Old West. Don't forget to feed the dragon in King Chariot's medieval castle and be sure to check out Darien the librarian from the future -- he may just have the book you need.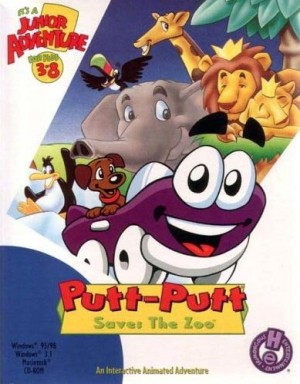 Join Putt-Putt and Pep as they help Outback Al get ready to open the Cartown Zoo. The bridge is out, zoo chow's running low, and six different baby animals are missing!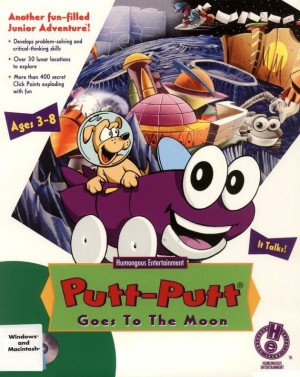 What if you landed in a strange place and had to get home? That's the challenge for Putt-Putt and his friend Rover, a lonely little lunar terrain vehicle left behind by the astronauts. To get home, they have to build a rocket, but first they must find all the parts.
Grab your car wax and get ready to buff yor bumpers -- it's time for the annual Cartown Pet Parade! Help Putt-Putt tackle the local car wash, explore a toy store, rescue a lost puppy and much more before heading to his front row spot in the parade.