Keepsake
Developer:
Wicked Studios
Platforms:
Mac, PC
Releases:
United States

March 29, 2006

by The Adventure Company
United Kingdom

February 1, 2006

by Lighthouse Interactive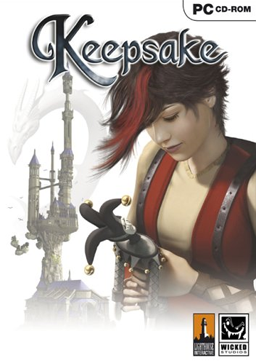 This epic quest will take you on a journey of enlightenment leading you to the gates of Dragonvale Academy. Upon your arrival you discover something is terribly amiss… the vast campus is completely deserted and Celeste, your best friend who is a scholar there, is nowhere to be found. After stumbling upon one of Celeste's most treasured keepsakes, you suddenly realize that treachery and sorrow lurk throughout its empty halls. Accompanied by a charmed dragon, you must uncover the mystery behind Celeste's strange disappearance, Dragonvale Academy, and the beloved keepsake.
Stuck in
Keepsake
, or looking for the best way to proceed? Click below to view our walkthrough for
Keepsake
and wonder no more!
Note, these will contain spoilers.
What our readers think of Keepsake

Posted by Nico2021 on Apr 12, 2021
Pros: Nice graphics Beautiful setting Great music Ok story A big amount of logical puzzles with great variety Great hint system nicely implemented in the game. Great value for money. I bought the game for like 3 euros from steam and spent around 35 hours...

Posted by Adventurequests on Jul 16, 2018
Awful game, I totally disagree with the reviewer

First of all, I think this game deserves no more than 1.5 stars. The only good things in it, are the graphics and the music. That's it. The game is very long, but not for the good reasons. It has too many puzzles, and the last hour of playing is just "find...

Posted by emric on Jun 1, 2012
STUNNING art direction & rewarding melancholy story easily overshadow a few weak spots

this is an amazingly beautiful game. the art direction is astoundingly good! haunting and desolate and beautiful. at times the artwork even reminded me of 'Ico'—and that is a high compliment indeed! the way the camera moves cleverly gives a nice sweeping...
SELECT wt.entry_id as entry_id, we.entry_id as review_id, wt.title, we.field_id_46 as rating, wd.field_id_71 as series FROM exp_channel_titles AS wt, exp_channel_data AS wd LEFT JOIN exp_playa_relationships as rl ON (rl.child_entry_id = wd.entry_id AND rl.parent_field_id = 31) LEFT join exp_channel_data as we ON we.entry_id = rl.parent_entry_id WHERE wt.entry_id NOT IN (SELECT entry_id FROM exp_category_posts WHERE cat_id = 10) AND wd.channel_id = '2' AND wt.status = 'open' AND wt.entry_id = wd.entry_id AND wd.field_id_19 NOT LIKE '%Hidden Object' AND wd.field_id_85 != '0'  AND wd.field_id_17 = 'Third-Person'  AND wd.field_id_23 = 'Illustrated realism'  AND wd.field_id_76 = 'Fantasy'  AND wd.field_id_75 = '2D or 2.5D'  AND wd.field_id_22 = 'Point-and-click'  AND wd.field_id_19 = 'Quest'  ORDER BY rating DESC LIMIT 16
You might also like these adventure games