Gamescom 2018 round-up: Part 3
Events Coverage
Reporting from E3, GDC, AdventureX, Gamescom and other gaming events around the world
There were so many promising adventure (and adventure-like) games on display in Cologne this year, the only way to get through them all was for TWO sites to join forces over THREE different round-ups. Once again, following the first part and middle installment of our gamescom trifecta, we turn the stage over to Adventure Corner to seal the deal.
 
---

Leisure Suit Larry: Wet Dreams Don't Dry
With Leisure Suit Larry: Wet Dreams Don't Dry, German developer Crazy Bunch transports Larry Laffer, the main character of Sierra's classic adventure game series, to the present day. It's not a sequel of any sort, and prior knowledge of the LSL series is not required. But experience with the series won't hurt as there are some familiar faces and places: right at the start, we visit Lefty's Bar. Also, Larry's character hasn't changed much. He's still doing anything and everything to get a date with women, which usually puts this unlucky fellow into awkward situations. During conversations and observations, he still loves sexual innuendoes, and there will be a lot of jokes as you would expect from this franchise.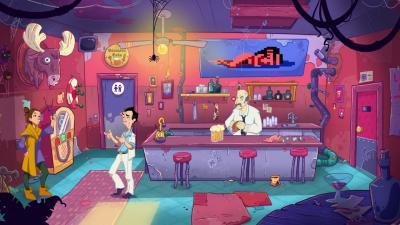 In this 2D point-and-click adventure game, the protagonist wakes up in the world of today, not having aged one bit. There won't be an explanation of why he ends up in modern times because this is not relevant to the story. Unsurprisingly, it doesn't take long before he falls in love with a woman who has zero interest in him. His only chance to convince her is to gain an incredible amount of points on a dating app. Coming from the nineties, Larry doesn't know how things work these days. He accepts the challenge, not realizing that it's going to be almost impossible to succeed.
In his quest for love, Larry gets a smartphone and there are several in-game apps like Instacrap and Timber. New dates will unlock there too. Keep in mind that this is not so much a story about dating as it is about the social media generation. Author Falko Löffler has filled the game with many jokes that are meant to be a satire on this topic. The world of Wet Dreams Don't Dry is full of exaggerated personalities who are only interested in things like views, clicks and their image on social media. Interestingly, Al Lowe was not at all involved in this project despite being the intellectual father of this series. Crazy Bunch simply wanted to do their own thing.
The plan is for classic point-and-click gameplay with lots of dialogues and puzzles. There will be 170 items in this game, and objects can be combined in inventory. With around ten hours of playtime, it's probably going to be among the longer adventures these days. Wet Dreams Don't Dry comes with more than 30 hand-painted screens in 4K resolution. Like the humorous script, the environment is full of sexual innuendo. Buildings looking like phallic symbols are just one example. The developers also mentioned why Larry Laffer looks different compared to the original series: they wanted to make him look more like the other characters. The result is a distinct 2D comic style with nice backgrounds, but a Larry that might seem strange at first.
Leisure Suit Larry: Wet Dreams Don't Dry has English and German voice-overs and will be released on November 7th for Windows and Mac.
Harold Halibut
Onat Hekimoglu from Slow Bros. talked with us about the narrative exploration game Harold Halibut. We also had the opportunity to play the demo. The backstory of this game starts in the 1970s. Afraid the world might come to an end, a spaceship takes off to reach the next habitable planet and save human civilization. Two hundred years later it arrives, but not quite as planned, as the ship ends up stuck underwater. From that point on, the crew has been trying to find a way out. Harold's adventure starts 50 years later.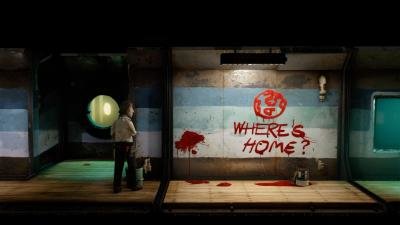 The main story is linear, with just one ending, but there will be optional stuff to do, like side-quests and other activities. On the ship, each character has their own agenda, one that is sometimes kept secret. This does not appear to be the type of game where you worry a lot about your choices, but people can behave differently depending on how Harold treats them. Exploration and interactions with others are at the core of the gameplay, but talking is not all you do. In general, there won't be puzzles in the traditional sense, but there will be machines to operate and a lot to interact with. Examining samples in the laboratory is something you learn at the start of the game. Tasks like this show the protagonist's daily routine as an assistant in the lab. Harold can also visit the arcade and play mini-games.
A huge part of the spaceship is accessible early on in Harold Halibut. As for the restricted areas, there are usually plausible explanations. For example, if a shop is closed, it's not the right time of day. Despite the open game design, the developer would not describe it as an open world adventure, especially since there are no natural day/night cycles. Time does progress but that change is triggered by the story. The intention behind that decision is to ensure the player doesn't have to keep waiting.
The game's distinct visual style is made with the stop-motion technique. More than 80 backgrounds and over 30 clay characters have been hand-crafted. Everywhere in the game, it is possible to zoom in and relish the modeling. Taking a close look is really worth it, as the level of detail amazed us: none of the objects or backgrounds feels unimportant. Interestingly, the architecture of the spaceship, including its interior, was heavily inspired by the designs of the avant-garde architectural group Archigram. Other than that, Wes Anderson's movie The Life Aquatic with Steve Zissou influenced the feel of the underwater world, and games like BioShock and Night in the Woods had some impact too.
According to Hekimoglu, last year's failed Kickstarter ended up being very positive for the German studio. The campaign created a lot of awareness and several publishers showed interest because of it, which gave them a choice of options. Thanks to Curve Digital, they are now able to focus on the development without worrying about finances and PR work. There's no release date so far, but Harold Halibut is aiming for launch next year on Windows PC, PS4 and Xbox One. It will be fully voiced in English.
Pendula Swing
Valiant Game Studio is currently working on Pendula Swing, a story about the legendary female dwarf Brialynne on her quest to retrieve a very important axe which was stolen from her. For a long time, she lived in peaceful seclusion. However, all clues lead to the next big city, where she will have to socialize to catch the thief. Everything in this place seems strange to her, and social conflicts between orcs, elves, dwarfs, and humans are apparent.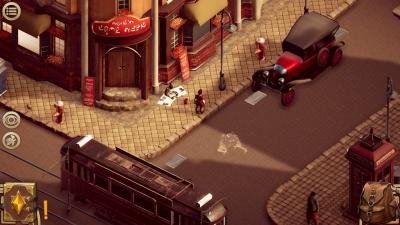 While there is no real combat, Pendula Swing has some RPG inspirations, such as the inventory management. After clicking on a drawer, we see the protagonist's inventory and the drawer's inventory. You can then move objects from one inventory to another, which also means that it is possible to store stuff someplace else once the inventory is full. The isometric visual style also resembles RPGs or games like Little Big Adventure.
Aside from things like these, this game works pretty much like you'd expect from a point-and-click adventure. Some of the challenges allow for more than one solution, and most puzzles depend on how you interact with the people in this world. The game comes with lots of dialogues (which can lead to a character not wanting to talk to you anymore), but don't expect any voice-overs. There's a lot of text to read with plenty of creative ideas, only sometimes it can get a bit circumlocutory.
The first two episodes of this humorous fantasy version of the Roaring Twenties are already out on Steam (Windows and Mac) and the first installment is free to play, which is why we mostly talked with the Swedish developers about their future plans. Five episodes are still to come, and if everything goes according to plan, episode three could be ready sometime in November. After that, the team hopes to release at shorter one-month intervals. We'll see how that goes, but the small indie studio certainly looks dedicated and is releasing new patches on a frequent basis to get over a few technical issues encountered in the early days after the debut release.
Detective Di: The Silk Rose Murders
Detective Di: The Silk Rose Murders is a point-and-click adventure game from Nupixo Games. Back in 2015, the Canadian studio succeeded with a Kickstarter campaign to raise a relatively small amount of money. Now the pixel art game looks like it's close to being finished.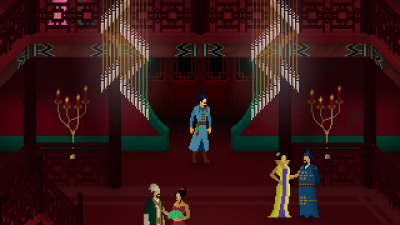 We take on the role of Di Renji, who is kind of like the Sherlock Holmes of China in the 7th century. In the middle of political turmoil, Empress Wu Zetian ascends to the throne. Unsurprisingly, not everyone in the Middle Kingdom approves of her, and a brutal series of murders soon creates fear among her followers. It is our job to investigate these crimes, but even for Di Renji, it takes time to accept the new ruler.
In Detective Di, we need to solve several cases and a lot of what happens is based on real events in history. Overall, the gameplay is pretty standard for detective games: search for clues, talk to witnesses and suspects, and look for evidence. There is also an inventory where combining objects is possible. Once enough evidence is found, a special mechanic comes into play where we deduce and reenact the crime scene to test our theories. As far as we know, it's not going to be possible to fail.
The pixel art 2D graphics remind us of the late 1980s and will not please everyone. And some objects can be tricky to see because of the visual style. Nonetheless, Detective Di does a good job letting the player experience a different time and culture. Already in the first case, we found a lot to explore, and it was fun doing so. The game will be translated into English, French, and Chinese, but without voice-overs.
There is no official release date yet, but Detective Di could be ready this year on Windows PC and Mac.
The Dark Pictures: Man of Medan
Not too long ago, Supermassive Games was bound by contract to develop exclusively for Sony. Therefore, the only way to play their successful horror game Until Dawn is to own a PlayStation 4. However, the British developer from Guildford has entered a new partnership with publisher Bandai Namco and is now working on The Dark Pictures Anthology, a new horror series that will be available on PC, Xbox One and PlayStation 4. At gamescom, we checked out the demo of the first game called Man of Medan.
Like many horror movies, the story of Man of Medan begins with a group of five young adults. These people spend their holiday on a boat, right in the middle of the South Pacific, diving for a legendary sunken treasure. Unfortunately, this hobby expedition soon turns out to be ill-fated and life-threatening: A storm is about to break loose, and to make things even worse, they find out that they are not alone on the high seas. To come right to the point: it's not the nice kind of company.
The playable demo (on PS4) didn't start right at the beginning, but some time later: Fliss and Brad, two of the main characters, are exploring the innards of a strange ship, while another guy is holding them at gunpoint. Slowly we get an idea of what kind of enemy we are actually dealing with and what might have happened in this place. Of course, it also gives rise to many other questions which will hopefully be answered next year once the game is done.
Man of Medan is meant to be just the start of The Dark Pictures Anthology. During the gamescom presentation, we were told that every game in this series will be entirely stand-alone, with different characters and stories. This may not come as a huge surprise, considering that every playable character will be able to die during the course of the story, which would make any continuation rather difficult.
The common denominator of this anthology is the fact that every part will be based on an existing urban legend. That being the case, the title Man of Medan already suggests a connection to a myth: In the year 1947, the ghost ship Ourang Medan was supposedly wrecked when the whole crew died under unexplained circumstances. Unsurprisingly, Supermassive Games doesn't rely much on facts and science, and apparently the story takes a very supernatural turn.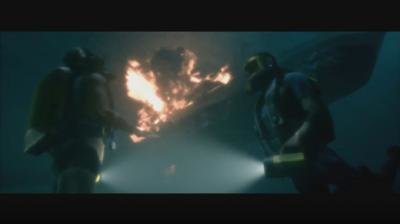 Bandai Namco hopes to release two games each year, starting in 2019. Compared to Until Dawn, these games will be a lot shorter (4-5 hours long) but the developer is certain there will be more story branches and choices with consequences than in all of their previous games. Of course, that remains to be seen, but even if it turns out to be somewhat like their last big horror title, the replay value should be fine.
Those who know the studio's previous works will immediately feel like you're in familiar territory. The core gameplay seems to be everything you would expect from Supermassive Games, which is decisions, exploration and Quick Time Events – all of them closely linked to the story and the psychological type of horror. Even the console controls are pretty much the same. We move around freely and explore the environment; as soon as we are close to a hotspot, it gets highlighted, and if we click on it we get to see the object up close. Still, many objects are easy to miss if you don't deliberately examine every corner of each room.
Careful exploration might even save lives – or lead to sudden death, as some of you might remember from Until Dawn. It can also give you a better idea of what happened on the ship, and the more clues you find, the closer you get to the whole truth. However, it is best not to expect any puzzles or many other deeper mechanics, or else you might be disappointed.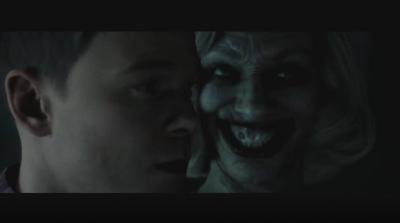 Basically, the horror takes the same approach as we're used to from this developer. It focuses on slowly triggering a very psychological type of fear, with a few jump scares here and there. Definitely not the gory kind of horror, and most likely easier to handle than, for example, Scratches or Amnesia. Besides, sometimes there may be characters that are very annoying, kind of like Brad in the demo. Occasionally things like that can even make it amusing when certain characters end up in very awkward situations.
Fitting the very well-implemented cinematic presentation, each character is played by a real actor or actress. In the official trailer, we already recognize Shawn Ashmore, who is known as Bobby Drake in the X-Men movies and also stars in the TV series The Following. He already has experience with video games, since he played the lead in the costly action-adventure game Quantum Break two years ago. It is also noteworthy that compared to previous games, the facial animations are more expressive this time; on the other hand, the graphics in Until Dawn felt slightly more detailed.
We had a lot of fun with Man of Medan and are looking forward to the finished version. Most likely it will not be the best choice for fans of the more traditional adventure genre, and it's a bit too early to say much about the quality of the storytelling, but those who are looking for a cinematic horror experience in the vein of Until Dawn should definitely watch out for this upcoming title.
Close to the Sun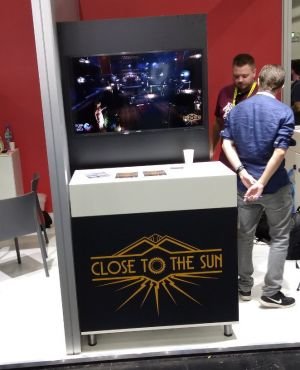 Judging from the first chapter, Close to the Sun by Storm in a Teacup (N.E.R.O.)) could be a title to watch for fans of the psychological horror genre. This dark first-person adventure game from Italy is set at the end of the 19th century, when Nikola Tesla is at the height of his career. This is an alternate reality, however, so there are many deviations from history.
In this story, the smartest scientists in the world were invited to Tesla's gigantic ship complex, but things went south. Our protagonist is the reporter Rose, who is desperately looking for her sister on site and hopes to find out more about this bloody catastrophe.
Close to the Sun gives the player a lot of time to explore. In the beginning, there are already a few not-too-complex environmental puzzles (for example, getting the power back on to reach restricted areas). Rose doesn't carry a weapon so she can't kill, but this is the type of horror-adventure game where you better watch your step. In some situations, hiding and running are required to survive. We were told that completing this game will probably take around six hours.
Overall, we enjoyed the demo. A lot of inspiration comes from games like SOMA and Layers of Fear. The visual style, on the other hand, is reminiscent of steampunk, Art Deco and Art Nouveau, which gives it a similar look to the popular BioShock series. One point of criticism is the motion sickness we experienced. There are slight distortions when looking and moving around, which can be unpleasant after a few minutes. Of course, there's still time to address this before Close to the Sun launches on Windows PC, PlayStation 4 and Xbox One in early 2019.
Lost Ember
Like every year, several games and publishers received gamescom awards from the organizers of this event. Most of the winners are big names like Marvel's Spider-Man or Fortnite. One exception is the prize for the best indie title, which this year went to Lost Ember from German developer Mooneye Studio. A few years ago, this project was successfully funded by Kickstarter.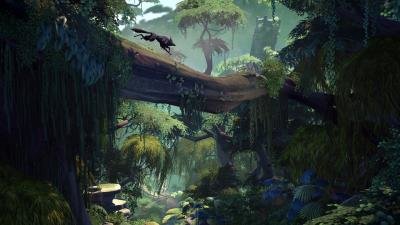 Lost Ember lets players explore a beautiful world ruled by nature. We control a wolf with a special gift: the ability to possess the body of other beings. The 3D environment is full of fish, eagles, buffalo and more. All of them can be possessed easily just by pressing a button on the controller. After that, we see everything from their perspective, which allows us to go places the wolf can't reach. Small creatures, for example, can fit in small tunnels. Some of them are near-sighted so that objects in the distance can look blurry for them, and possessing another creature can change the way we see things.
This is not a game where you run the risk of dying, and there is no combat. The important thing is to know where you need to go and what animal can make that happen. Lost Ember is not supposed to be challenging, so there won't be very complex puzzles. It's an exploration-heavy adventure game, but it does come with a story. Along the way, we discover memories telling us why there are no more people in this world. Ghostly appearances replay important moments of the past. While the game doesn't rely on dialogues, it will be fully localized in English and German.
Playing the demo was an enjoyable experience, especially since this world is rich in variety and the visual style is quite intriguing. Running through the green fields, diving underwater and discovering a hidden ruin, jumping down a waterfall, or simply flying as a bird and watching the ground from way above, there's a lot to see and explore.
Lost Ember is aiming for a release in early 2019 for Windows PC, PlayStation 4 and Xbox One.
SCARF
Similar to Lost Ember, the main character in Uprising Studios' SCARF lives in close touch with nature. This is meant to be an exploratory 3D platform game for all ages, and watching THQ Nordic's presentation made us remember other atmospheric games like Journey and RiME. In some ways, SCARF seems to share the same idea.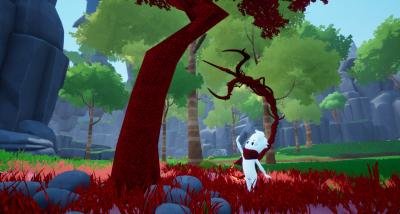 There is a story, but it's not as prominent as you'd expect from a full-fledged adventure game. In short, SCARF deals with the question of what it means to be a hero and to fulfill a destiny. Interestingly, there are two main protagonists: the playable character (a strange looking fantasy creature in white) and his red scarf. Their agenda is often not aligned and, at first, we don't know what this piece of cloth wants.
Three areas will be explorable: the Meadow, the Desert, and the Mountain. Along the way, we discover memories and other secrets. We also meet creatures that look like the playable protagonist but usually behave like kids. Among other things, we can play hide and seek with them, or try to catch them. Once we succeed, a question arises: Do we give the scarf what it wants, or not? Of course, we don't want to spoil too much at this point. Throughout the journey, our hero gains several tattoos, which gives him a more and more unique look and reflects the progress of the story.
While the gameplay focuses on exploration, there is also a lot of jumping and running. Dying isn't something to worry about here, but if you mess up a jump, it might be necessary to do some backtracking. Amongst other things, the scarf can take shapes like wings; that way even a chasm can be crossed. With this red sidekick, we can overcome many obstacles. The developers from Salamanca expect five hours of playtime.
SCARF relies on nonverbal communication, so there's no voice acting. Instead, the orchestral soundtrack does a pretty good job accompanying the action with music. Sometimes it is more present, other times it's more subtle.
The Spanish studio is aiming for a release on PC sometime around the end of the year or the beginning of 2019.
Season of the Warlock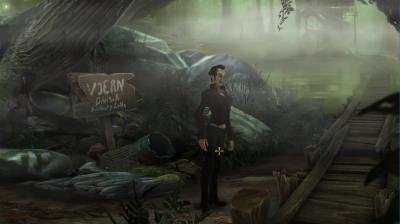 Another point-and-click adventure game is The Season of the Warlock from enComplot. It's about the Victorian aristocrat Lord Alistair Ainsworth, who finds a talking painting of a powerful warlock in an old castle. Depending on how the player deals with that situation, there will be two paths to play this story with completely different puzzles to solve.
We have seen this project several times over the past few years. The bad news is that there isn't much new to share since last year. The good news is that Javier Cadenas assured us that it's close to being finished and the goal is to release it in 2019. Other than that, the developer is considering a release on consoles, but for now, PC has priority.
Edgar
We took a look at the French 2D adventure Edgar, which is the debut game from La Poule Noire. Though still in an early stage of development, the demo gave us a good idea of what to expect. The main character is a 40-year-old man who lives alone on his farm with several hens. His parents taught him some questionable things, which is why he is afraid of people. Unfortunately, there is an accident on his farm, forcing him to visit the next village for help. There he meets some inhabitants even weirder than himself.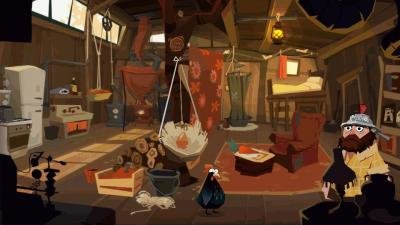 According to the studio, inspiration comes from the old LucasArts titles, but also from Night in the Woods. The humor reminds us of the adventure classics, but the gameplay is likely going to be more casual. The open world elements are remarkable, with the player actually deciding when to start the main story. Before that you can talk to several NPCs, and most of the areas of the village will be accessible from very early on. Weather will change, and there are plans for day-night cycles. It's not clear yet whether this will be triggered by the story, or after a certain amount of time. Weather and time of day will most likely have an effect on the environment. If Edgar needs to talk to someone at a bar, for instance, he probably won't find this person while it's still sunny outside.
Along with the main story, there will be optional stuff to do. For example, we heard that if Edgar doesn't take a shower for a while, people react to him in different ways. However, we only played the first location at the farm, where we did some harvesting and fed the hens. There was already a lot to interact with, which gave a good idea of his daily routine.
At this point, Edgar has only been in development for a few months. Judging from that, it's quite possible that some things will be subject to change. Nevertheless, the first minutes with this bearded protagonist showed promise. The cartoon graphics look charming, and the humor works fine so far. There is no release date yet, but the indie studio hopes that development of the whole project won't take longer than 18 months.
Nubla 2: M. The City in the Centre of the World
In English-speaking countries, the PS4 exclusive The World of Nubla was released in 2016. Playable for one or two players, the idea was to use paintings from the Spanish museum Thyssen-Bornemisza as backgrounds for the short 2D adventure game. With this didactic approach, Gammera Nest hoped to make art more accessible, creating Nubla together with students from a university. While the gameplay of the first installment is simple and not fleshed-out, the visual style does make up for some of the flaws.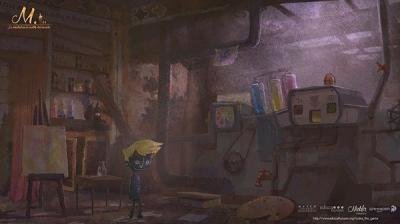 At gamescom, we saw bits of the second chapter. The core team hasn't changed much but there are a few more professionals helping with the development this time. Just like before, paintings from Thyssen-Bornemisza (which contains art from the late Middle Ages to the 20th century) are transferred to this fantasy world. While experiencing a story about temporal and spatial frontiers, we see the art of painters like Edward Hopper, Max Ernst, David Friedrich or Joseph Cornell. Some of them are even NPCs we can talk to. The new story is a continuation, but there will be a recap of previous events so playing the first episode is not required.
From what we saw and played during our appointment, the gameplay has changed quite a bit. Although the developers mention classic adventure games like those from LucasArts as the most important influence, there are many platform elements this time. Those who know Brothers: A Tale of Two Sons will recognize certain gameplay aspects. In some levels you control two characters at the same time with one controller (if you play solo). One character is controlled with the left stick, the other with the right stick. Each of them has different abilities: one is smaller but with jumping skills, while the other one is bigger and stronger. Usually it takes both of them to get from A to B. In terms of difficulty, it's not supposed to be a hard game, which is understandable because the goal is to stay accessible to a younger audience.
Gammera Studio told us that the approximate playtime for this chapter of Nubla will be around six hours. Compared to the pretty short first part, that sure sounds like a lot. We don't know the release date yet, but it shouldn't take too long until it is finished.
 
---
Translation of this article from German provided by the author, Matthias Glanznig.