Adrian Carr - A Film Director's Take on Tex Murphy
interview
No doubt the names Chris Jones and Aaron Conners are the first that come to mind when thinking of the acclaimed Tex Murphy series. But behind the scenes (quite literally) there is no denying the impact of director Adrian Carr, whose filmmaking skills significantly raised the bar for Full Motion Video (FMV) in games. We already interviewed Jones and Conners during their successful Kickstarter campaign, but a year later with filming now complete on Tesla Effect, we decided it was high time to speak to Adrian to discuss all-things-Tex.
As it turns out, not only did he provide a wealth of wonderful insider knowledge, he brought a bonanza of never-before-seen images with him! Be sure not to miss the exclusive image gallery at the end of the interview.
 
---
Ingmar Böke: Adrian, it's my honor and pleasure to welcome you to Adventure Gamers. Fifteen years after the release of Overseer, you've finished shooting the new Tex Murphy game. I imagine it's been quite a trip after all these years. Can you express your state of mind right now?
Adrian Carr:  RELIEF after delivering the locked edit of Tesla Effect. On July 19th I had my first decent night's sleep in six months. The past few months have been spent editing over 2,200 shots all on green screen, most with multiple layers. We shot a second round of pick-ups with Chris Jones and a new character that will have a significant impact on one of the paths. I have been more involved than in my previous two Tex outings, particularly with editing, and over the next few months I will be involved in most aspects of post-production.
Ingmar: I guess you're keeping the plot of Tesla Effect under the wraps at the moment, but we would love to get a basic idea, at least. What can you tease about the plot of the new game and to what extent does it continue where Overseer left off in 1998?
Adrian:  Yes, we are keeping the Tesla Effect plot under wraps; however, as the title suggests it does involve Nikola Tesla and the trailer released in conjunction with the title announcement alludes to a greater story, one that links back to one of Tesla's more esoteric experiments. This was the first of several planned teaser trailers that will lead up to the final full trailer prior to release.
The story picks up in 2050, seven years after Overseer's infamous cliffhanger ending, followed by those prophetic words "to be continued…" Tex [you the player] wakes up with a new lump on his noggin and a fresh case to solve as well as the mystery of what happened to him and Chelsee on that fateful ride. Let me add here that it does not matter if you haven't played the previous Tex Murphy games to understand the story, but it will be a richer experience if you do play The Pandora Directive and Overseer.
Ingmar: The actors involved in Tesla Effect can all be found on IMDb these days, but most of our readers probably don't know about the cast yet. What can you tell us about the main actors involved?
Adrian:  Steve Valentine: He plays Charles Johanssen and I cannot describe his character because it will give away too many spoilers, but I can tell you that Steve is best known for his role as Dr. Nigel Townsend on the series Crossing Jordan with over 30+ guest appearances on various series. His big screen roles include Spider-Man 3, A Christmas Carol, and Trojan War. As well as being an actor, Steve is a world-class magician.
June Lockhart: Ms. Lockhart plays Margaret Leonard and, like Steve, I will not describe her character as it will spoil too many elements in the story, but I will say she plays a significant role in Tex's life. June Lockhart is an icon in Hollywood film and television history. She started her career in 1940 and continues acting today. She is best known for her roles as Ruth Martin on the classic series Lassie and as Maureen Robinson in the sci-fi series Lost in Space and has guested on practically every TV show since the 1950s
Richard Norton: Richard returns as Big Jim Slade but with a surprising twist. He is a world-class martial artist and actor with 60+ film credits and television credits, including several guest appearances on Walker: Texas Ranger and The New Adventures of Robin Hood. Richard recently wrapped Mad Max IV: Fury Road as co-fight choreographer and stunt performer. He is the only western actor to have co-starred in three Jackie Chan movies and his pairing with Cynthia Rothrock has earned them the reputation as the "Fred Astaire and Ginger Rogers of Martial Arts".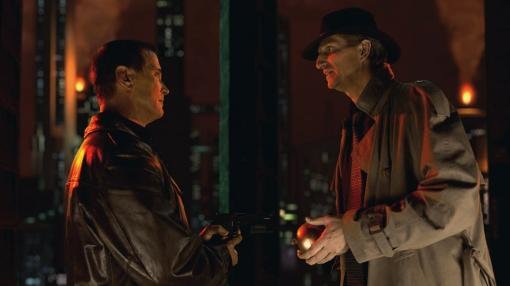 Big Jim Slade confronts Tex atop Coit Tower in Tesla Effect
Larry Thomas: Yes, Seinfeld's 'Soup Nazi' is in Tesla Effect. Larry plays Lt. Danwicz, who takes over police duties from Mac Malden [the late Kevin Jones]. As Tex says: "Danwicz?  Rhymes with Manwich. And manwiches are unforgettably delicious". Larry can add Danwicz to his impressive roster of guest-starring roles on many series and movies.
Todd Bridges: He plays Mantus, a Morlock whose disfigurement is due to self-sacrifice but he does have a burning desire for revenge against one of the characters in the story. Most fans know Todd from his role as Willis Jackson on the hit series Diff'rent Strokes and as Monk on Everybody Hates Chris.
Jodi Russell: She plays Taylor Lamintz, Louie's niece, an investigative reporter and one of the female characters vying for Tex's affections. Jodi is a TV vet with roles on Everwood, Touched by an Angel, Cover Me, Silk Stalkings, Models inc., and Murder, She Wrote, as well as roles in indie films like Three of a Kind, Precious Mettle and Little Big League.
Shannon Engemann: Shannon is Ariel Bauers and Taylor's competition in the Tex romance stakes. Is she a woman to be trusted? You get to discover that as you make your choices. Shannon played Melahn Tode in Under a Killing Moon, who does not factor in Tesla Effect. Shannon has been on the series Charmed, is the host of Straight Eye for the Whipped Guy and had roles in the movies Poolhall Junkies, Three of a Kind, and Dragon Warriors.
Sewell Whitney: A wonderful character actor who has guest starred on numerous series like Dexter, Mad Men, In Plain Sight, Law & Order: SVU, CSI, and All My Children, plus roles on indie movies Dark Power, I am Singh, Beyond Reasonable Doubt, Tom Sawyer & Huckleberry Finn. He plays Thompson Ault, a reclusive man who makes a startling revelation in the story to Tex.
Ingmar: You're known as a man who has many great anecdotes to share, so please share some favorite anecdotes of working with the actors on Tesla Effect.
Adrian:  I will give you a handful… but note there are a couple of spoilers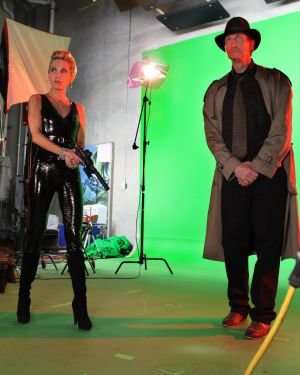 Emergency fill-in Shannon Engemann gets the upper hand on set with Chris Jones
* Cold sweat moments for a director: Change of actors at the last second. In our production we had two instances. Originally the role of Ariel was to be played by another actress, but when a serious illness befell her three days before filming was to commence, there was a mad scramble to recast. It was a weekend so contacting agents was all the more difficult. We had someone we liked but she fell out on the Monday morning and Ariel was scheduled to shoot Tuesday. Chris, I believe it was, suggested Shannon, who was flying in from Hawaii that evening so we waited after wrap for her to arrive. Nervously I asked her if she could read with an English accent. Her English accent was flawless.
Incident two was when an actor had to be replaced for not being prepared and Sewell Whitney stepped in with only a day's notice to fill the important role of Thompson Ault. I suggested Sewell to Catrine and she agreed he would be great for the role. Sewell is a gym buddy and keen to work with me, so when the opportunity came up it was a no-brainer for him. His nuanced performance brought tears to the eyes of several of the backers and the crew. I was lucky to have these two talented performers join the team.
***SPOILER ALERT
A week before filming on a snowy winter night in Salt Lake, I was having dinner with the producer, Catrine McGregor, and Director of Photography, Greg Green, when Catrine's cell phone rings. It is June Lockhart, an actress in her twilight years. I had not met or spoken to her and she had some questions. Catrine said, "You should talk to Adrian Carr, the director, he's right here. June, this is Adrian." I asked Catrine: "Does June know she gets decapitated?" "No." It was so noisy that I had to step outside to even hear myself think… it was still snowing. After 20 minutes of freezing my ass off and building rapport, I had to bring up the subject of having to be decapitated. "Oh dear, will this be before…or after lunch?" We had a good laugh and I could not wait to meet this icon I had grown up watching on television in Australia.
END SPOILER
* We have a local female impersonator in the game who named her boobs West & East Bountiful, and the gap between Centerville.
Imagine Louie Lamintz... losing his teeth!
* One can only imagine the stress and pressure on Chris during filming and he needed to release it at some point. It happened when Louie's fake teeth came loose on a particular line – and Chris just lost it – hysterical laughter to the point of tears. He tried to compose himself and continue but within seconds he was slumped over the counter crying with laughter… for FOUR minutes non-stop [and we have it all on camera].
* Taylor [played by Jodi Russell] slaps Tex several times [it is interactive after all].  Chris took it on the cheek a few times, and I mean literally.  I stood in for Tex the day Ariel [Shannon Engemann] had to slap Tex hard.  Chris was absent to attend a personal matter and I have to say after a few whacks you sorta get to like it – is that weird?
Ingmar: Actors aside… any other gossip from the game's development?
Adrian:  As you know my WANKER T-shirt has been featured prominently in various photos and videos. One afternoon I was reviewing one of the 3D rooms with Greg when I was called onto the green screen stage and there in front of me was a lineup of all the Kickstarter backers with their backs to me, all wearing black T-shirts. They turned around and I saw a bunch of 'WANKERS' standing in front of me. Mac from London was the ringleader. I like to run a fun set. Keeping on the T-shirt theme for a second, Mac also printed up a handful of them with two of Greg Green's favorite expressions: "Why aren't we shooting" and "Hand on switch". We paraded around in front of him for about 90 minutes until Bobby James pointed them out. Greg collapsed laughing and was humbled.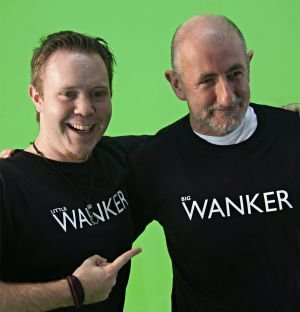 Adrian with Mat Von Rhoon, leaving no doubt who's the bigger wanker
 
Talking of backers who helped on set, there was one in particular who would crank up music in his headset because he didn't want to hear any spoilers.
We could afford the majority of actors for one day only, so I ended up doubling for Todd Bridges after he had wrapped, which meant my donning his garb and being made up as a Morlock. After shooting my scenes I had no time to remove the make-up because I was still directing. But there still wasn't any time after wrap to remove the make-up before going to dinner with Richard Norton and his wife Judith. I certainly had my share of gawkers trying to figure out if I was contagious or not.
Every guy and maybe a couple of the girls on set were jealous of Kish [wardrobe] having to smooth out the latex cat-suit. I will let your minds run wild with that one.
The backers were excited about being blown away in the raid on the Tesla Institute and Richard Norton was on hand to ensure they died convincingly.
Saving the best for last: Mat Van Rhoon, our Visual Effects Supervisor, attached orange ping-pong balls to the green screen so he could align camera movement for VFX shots. If the balls were not aligned properly, Greg the DP called out to Mat from behind the monitor: "Mat, can you get your balls in order."  One time Mat says, "OK you can touch my balls now." You can take that any way you want, but he did have a lot of offers. There was a frantic search when Mat called out "I've lost my balls" or when one fell off and rolled away, we'd go chasing down Mat's ball. Jen was seen holding one of Mat's crushed balls in her hand. Mat and Chris were joking about Mat's balls during rehearsal, and after Mat walked away, Bjorn joked, "That took a lot of balls." When Jen returned home to Washington she found one of Mat's balls in her bag and called him, "Don't worry, your ball's in good hands."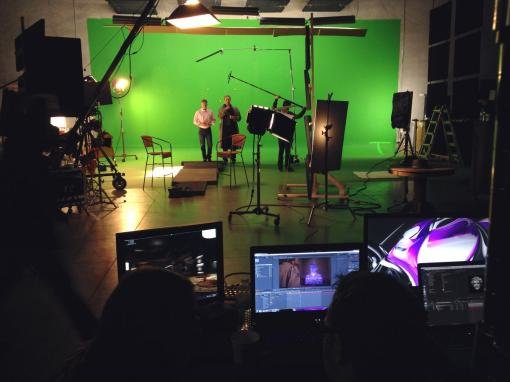 Green screen set of Tesla Effect, complete with Mat's balls on back wall
Ingmar: The Pandora Directive was an enormous improvement in terms of FMV compared to UAKM, while Overseer was another step forward that marked the most impressive video production of any Tex Murphy game we'd seen so far. In what ways will Tesla Effect be another improvement in terms of film production and a better combination of FMV and interactivity?
Adrian: The 15-year gap between Overseer and Tesla Effect has seen huge strides made in digital technology. In our case the biggest advantages have enabled us to shoot and display the action at 24 frames per second and in 16x9 format. The second advantage is the advanced look of 3D sets. I'll admit when I first saw the sets that Brian Johnson and Doug Vandegrift had created, I felt a cold sweat break out. How do I do their sets justice?
We shot the production with the Canon C100. (We would have preferred the C300 because of the ability to extract green screen elements easier, but budget was a significant factor, especially considering the scale of what we are attempting to achieve in FMV.) My secret weapon… Mat Van Rhoon! Mat was able to pull off miracles that I'll deal with in more detail later.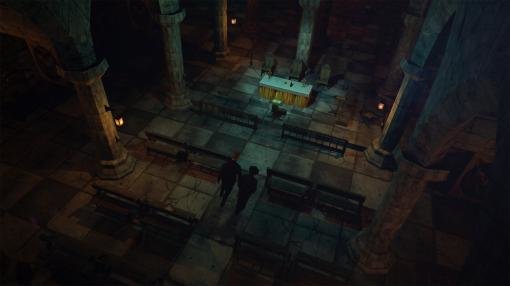 The Monastery in Tesla Effect
For me, the most significant improvement is the integration of real actors, not CGI characters, into the 3D world inside the actual Unity Engine. Bear with me now… in the previous Tex games, all the environments were designed using a software package like Maya or Max and these would be down-rezzed and converted to real-time graphics with a low polygon count that was optimized so that the computers at the time could enable the player to freely explore that location. We used higher fidelity, well-lit, textured, pre-rendered environments for the background plates to go 'behind' the actors once the blue screen was removed.
The big leap for Tesla Effect is that we are using those 3D environments straight out of the Unity Engine; for example, the teaser trailer released recently shows exactly what the game will look like if you were to remove the actors [other than the depth of field we use]. Chris Kelly at Big Finish Games wrote proprietary code that allowed us to simulate a cinema camera. We can tell Unity we're using an 85mm or 120 mm lens so it will have x depth of focus at this particular angle. In some cases we will separate out a foreground element so we can 'sandwich' the actor between it and the background, placing them 'inside' the location. The big advantage of this is that when the player steps into a room and activates a cut scene or interactive conversation, there is no discernable break between leaving the real-time environment and entering the FMV.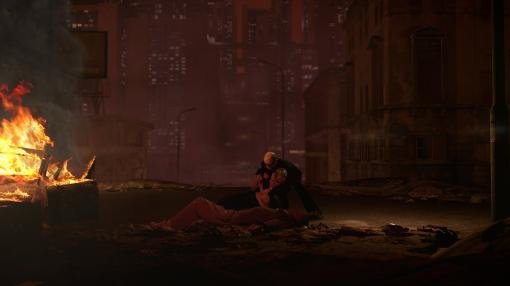 Dalton (Adrian Carr) gets rid of evidence on a new part of Chandler Avenue in Tesla Effect
Add to this achievement the ability to track the camera within 2D and 3D space. As I said earlier, there was a huge restriction previously on how much you could move the camera because the technology to track didn't exist at that time. With current digital technology and Mat's orange balls, we now have the ability to crane up and down, track backwards, forwards and sideways, even go handheld when warranted. Thus everything recorded live on the green screen set is translated into the Unity engine and subsequently into Adobe After Effects, which in turn allows us to bind the actors to the backgrounds.
In terms of the next Tex game I see unlimited possibilities in terms of shooting. If budget was not an issue I would use the Arri Alexa next outing, introduce more camera movement, expand the scale and texturing of sets and try more interesting character interactivity. However, no matter how great we make it look, I will be restricted by the all important issue of memory availability to allow the game to run without moving at a snail's pace on a computer, so there's fantasy and there's reality.
Ingmar: Chris Jones has come a long way from the cheesy slapstick of UAKM to the much more serious and emotional performance in Overseer. How do you look at his evolution as an actor and in what ways did he improve even more on the set of Tesla Effect?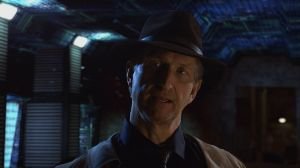 Chris Jones is Tex Murphy, seen here in the newly designed electronics shop
Adrian: Chris Jones is a natural actor and he uses his common sense logic to make Tex Murphy believable even when the situations he finds himself in are, at times, unbelievable.  Thankfully, Chris has a knack for comic timing, something you have or don't have, and it is one of the elements that is key to the success of Tex Murphy. 
We have all watched Chris's growth as an actor from UAKM to The Pandora Directive then Overseer, and now 15 years later on Tesla Effect.  A sign of how he has grown as an actor is the ease in which he slips on the trenchcoat and fedora and immediately becomes Tex Murphy.
Chris has not dropped a beat; if anything he is more at ease than ever in the demanding role as Tex. I suppose there is a confidence that comes with having gone toe to toe with actors like Michael York, Barry Corbin and the late Kevin McCarthy, and Chris has it in spades. 
In Tesla Effect there is more at stake for Tex personally and Chris had to dig deeper than he has in the past to deliver the honesty in his performance, all the while maintaining the fine balance of Tex's comedic tone, the heavy drama and action. Don't forget, Chris runs his other company TruGolf while he is shooting Tex Murphy, so how he remembers the extraordinary amount of lines and the variety of attitudes for the different paths I do not know. What I do know is: I am one lucky director. 
Ingmar: In these days of Kickstarter you might be able to finance more games the same way. Where would you like to take the series from a director's perspective in the future?
Adrian: I have to be honest and say that I doubt we could repeat the success of the Project Fedora Kickstarter campaign. Dedicated fans and friends primarily backed Fedora; some have gone far beyond their role as backers to see Tex Murphy return. No, I believe if another Tex Murphy game is produced in-house, it will have to rely on the success of Tesla Effect to warrant another game of equal or bigger magnitude. Unlike several games that have been recently funded through Kickstarter, Tex is keeping to its original production figure.
Where would I take Tex next time from my perspective as a director? I would like to work on further blurring the lines between gameplay and FMV scenes. We are doing an amazing job on Tesla Effect.
When I observe games where CGI characters interact casually in an immense world I think, "Wow, I wish we could do that with Tex" but then I get annoyed when I return to speak to a character that I spoke to a few moments earlier and they totally ignore me. Basically I feel conned, that it was all a ruse and the interactivity comes across as fake.
Since Tex Murphy games are story driven, having sideline conversations would distract from and/or weaken the momentum of the story. Having said that, I would like to experiment with one scene to try and see if I can overcome this flaw and make the experience as truly interactive as possible. I doubt I can successfully achieve it with FMV, but I'll give it the old college try. CGI characters never give me the satisfaction that I am watching and/or interacting with a real person, and for me Tex is all about the HUMAN connection.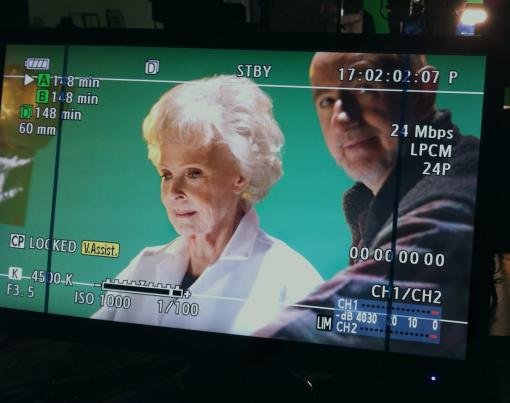 Why use CGI when you can direct Hollywood icons like June Lockhart?
Ingmar: The budget for this game is rather low compared to the old school days. What does that mean for your work as a director?
Adrian:  Compared to the budget for The Pandora Directive, which was in 1995 dollars, our budget is crazy low for a project as ambitious as Tesla Effect. However, with the advancement in digital technology over the past 18 years and my growth as a director, I can shoot more efficiently and better integrate the actors into the world of Tex Murphy. For Tesla Effect I have had more prep time than on previous games. It all boils down to being prepared, and preparation prepares you for the unexpected happenings on set. 
Ingmar: Last year you told me about the "possibility of a Tex Murphy movie in the not too distant future". Any update on that? If you ever get the chance to do it, how would your approach be different than it is for the games, and are we talking about a story that is completely independent from the games?
Adrian: The feature film is still in the works, but I am waiting on Aaron's new Tex Murphy novel to be written after he completes his current one. Most games do not translate well into movies because of the twitch and shoot nature with shallow characters and stories, whereas Tex Murphy is one of those exceptions to the rule with riveting stories and engaging characters; it's not about how fast you can pull the trigger and annihilate people.
If I had my way I would create an origin movie that uses the game after Tesla Effect as its core to introduce audiences to Tex Murphy and the post apocalyptic world he lives in. If successful, there could be a sequel before we spin it off into a television series or jump on the new trend: Internet series.
Chris Jones and I have discussed the idea of creating a television series around Tex Murphy and his adventures, especially in light of a new element introduced into Tesla Effect – Aaron's stories are epic in nature and the Tex Murphy universe is a place viewers would be eager to visit every week.
Ingmar: Let's go back in time now and look at the previous games before Tesla Effect. How did you get on board for The Pandora Directive in the first place?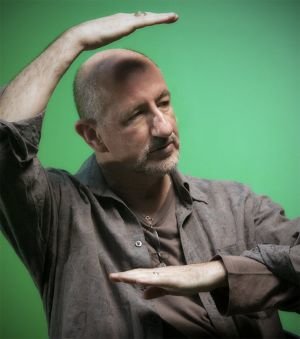 Adrian didn't know games at first, but he certainly knows shot framing
 
Adrian: Catrine McGregor, casting director of the Tex Murphy games, introduced me to Chris and Aaron back in 1994. They trusted her instincts and the next thing I know I'm in Salt Lake City, Utah, to direct a CD-ROM game – something completely alien to me, no pun intended. Chris and Aaron wanted me to direct the scenes that only had Hollywood talent in them. I had to learn a whole new language. 
I guess I did a decent job because after directing the name actors they asked if I would direct the entire live action portion of the game; I said yes.
Ingmar: I know that the guys from Access showed you material from UAKM. How did you feel about it and where did you see room for improvement? And what were the biggest challenges for you when planning work in this new medium?
Adrian: I had never played UAKM, like I didn't even know what a CD-ROM was when Catrine first mentioned the project – I was literally thrown into the deep end. The only arcade games I ever played were Space Invaders and Phoenix in the early '80s, so little did I realize I was working with the cream talent of FMV adventure games.
I recall it was Ascension Thursday when I first met Chris and Aaron at Access Software, then on Good Friday I was shown scenes from UAKM with Chris interacting with Margot Kidder and Brian Keith; the acting looked a little stilted to me. Chris was quite candid about being anxious when working with professional 'Hollywood' actors; he didn't want to let them down so he would shoot all his dialogue separately and if you notice, Tex talks then freezes, then Margot talks and then she freezes while Tex talks again, rinse and repeat  – there was little or no interaction.
My first suggestion was for Chris to act opposite the other actor in a scene and use their connectivity to fuel his performance. He took a big gulp but I knew he had the right stuff, and the interaction proved my point because the player became engaged emotionally.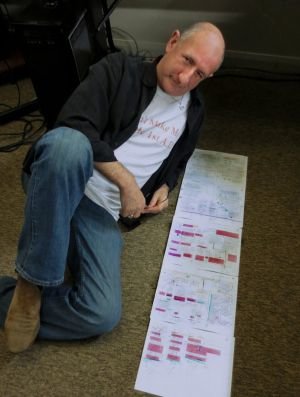 Adrian with one of Tex's complicated interactive dialogue trees laid out
 
Actually I was excited to explore this new medium. I got to see my first 3D environments and the massive interactive conversation trees and the scripts looked exactly like a FLOW CHART. I must admit that was daunting at first glance; Aaron Conners took me through one but it was still a lot to take on board. Also, the dialogue in the cinematics was not laid out in a standard Hollywood script format, which was very misleading to gauge scene timings for scheduling. Then they dropped the bomb on me… there was one unwavering restriction – you cannot move the camera. 
Planning? There was no preproduction period for me. It was fly by the seat of your pants, but having been a film editor for 20+ years certainly helped prepare me for the task ahead. For me, The Pandora Directive was the closest one can get to an interactive movie game, until Tesla Effect came along.
On Easter Saturday I was educated in how to view 3D wireframe imagery, how to use virtual lights so I could plan matching my lighting on the blue screen stage. I applied some basic film techniques to this virtual way of working, like floating walls to put the virtual camera on to capture certain angles in the VR set. Easter Sunday, no time for hunting chocolate eggs, it was spent storyboarding all the Malloy scenes featuring the late John Agar and the opening Black Arrow Killer sequence. Monday morning we started filming; there was no turning back!
The biggest challenges for me were not being allowed to move the camera at all and that the studio, which was NOT soundproof, was directly at the end of the Salt Lake City International Airport runway!!!
Ingmar: What are some of your memories of directing The Pandora Directive?
Adrian:  So many memories… to this day I still marvel at what we achieved on a 20' x 30' blue screen stage. Filmmaking is stressful enough, so I like to run a fun set and with Chris and Aaron I had more fun on Pandora than any other set I'd worked on; their enthusiasm and wit were infectious. 
One of the biggest challenges was the scheduling of actors who appear in a 4-shot when only two actors were available at any one time. This was made more difficult by the different pathing choices, so the grouping was constantly changing. Take the sequence on the spaceship involving Tex, Fitzpatrick, Regan and Cross. I would have Tex and Fitzpatrick, then weeks later I would have Tex, Regan and Cross – but Fitzpatrick had to appear with Cross and Regan, depending on which path you were on.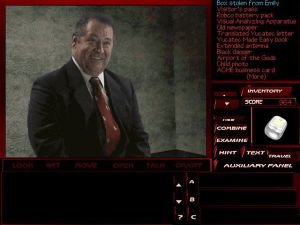 Barry Corbin's performance as the formidable Jackson Cross in Overseer was jeopardized by a camera malfunction
 
The day Barry Corbin flew in from Seattle for a full day of filming, the video camera broke down. He had been on the go since 5 am and had flown to Salt Lake City – filmed the intense scene with Bill [Archie Ellis] Bradshaw and then did the complex interactive interrogation conversation at NSA HQ. By now it was 6 pm and we still had the entire finale scenes to shoot. We broke for dinner, then discovered the camera malfunction. With no rental houses open after business hours in Salt Lake City (it's not like Los Angeles that operates 24/7) we had some hard decisions to make, so I suggested to Chris that we stop and regroup if Barry was amenable. Barry was relieved because he was fading quickly and he was having a great time and didn't want the project or his performance to suffer. The biggest blessing was being able to reschedule Barry to be there the same day as Tanya [Regan] Roberts. The universe was looking out for me that day.
Cut from the game to conserve space was one of my favorite moments, when Kevin McCarthy growls "Pods! Pods! I hate pods!" I had asked Kevin to improvise a call back to his classic movie Invasion of the Body Snatchers and Aaron incorporated it brilliantly into the script on the spot. 
*** SPOILER
 For me, one of my proudest moments was on the C Path, the noir path, where if Tex slept with Regan he ends up as a clown; there was something magically poignant about that scene.
*** END SPOILER
I pushed Chris to allow me at least one shot with camera movement, and he reluctantly agreed. I never realized at the time but this was a big deal because of the amount of computer memory it would eat up. The shot I had in mind was the first scene with the Black Arrow Killer, a simple tracking shot along a sleeping girl to the BAK searching her room. Once I had established camera movement, it looked like I had elected to not move the camera again. 
Storyboard of the Black Arrow Killer in The Pandora Directive's lone moving camera shot
The night before we started shooting with Kevin McCarthy, Chris, Aaron, Catrine and myself were at dinner and being treated to Kevin reciting Shakespeare and telling hilarious stories about his friends and the days of Hollywood's Golden era.
Something I will always treasure, while not directly related to shooting on set, were afternoons spent relaxing on Aaron's verandah shooting the breeze while enjoying cigars, beers and whiskey.
One of the most exciting times was working with Matt Heider and Jeff Abbott on the music cues. We would start in the early evening and look up and it was dawn; time just zipped by. It was magic listening to them create the sounds that would define the character or the emotional underpinning of a scene.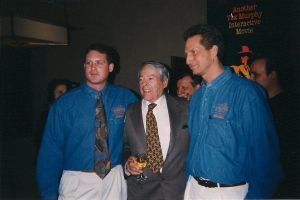 Aaron Conners and Chris Jones with the late great Kevin McCarthy at The Pandora Directive premiere in Tribeca Studios, New York
 
Ingmar: Which actors did you particularly enjoy working with on Pandora, and for what reasons?
Adrian:  Kevin McCarthy could crack jokes, tell an anecdote one second and then slip into character as Fitzpatrick the next; he was amazing to work with. Kev was old school, a total pro with a great respect for the written word. The acting world grew a little dimmer when it lost Kevin.
Barry Corbin flew in from Seattle straight to Salt Lake and was on set by 11 am and in character, had his lines down. Barry is a genuinely warm human being BUT his treacherous Jackson Cross could be summoned in a split second. Even Chris was nervous when interrogated by Jackson Cross.
Tanya Roberts oozes sensuality and you never tire of her voice, deep and sexy. She is so easy-going and a total joy to work with. We shared a lot of laughs.
The late John Agar, unbeknownst to me, performed his entire character with a cracked rib, including his stunt fall backwards off a chair. John would apologize when he blew a line and always called me "sir" out of respect, a hangover from his John Ford days, I expect.
*** SPOILER 
Bill Bradshaw, who played Archie Ellis, was so affecting in his scene with Barry Corbin (who shoots Archie dead) that Chris and Aaron felt compelled to write a new scene during the lunch break. That is how Archie came to survive on the A Path surrounded by two babes on some exotic island.
*** END SPOILER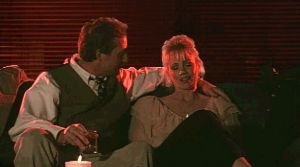 Tex tries putting the moves on an unimpressed Chelsee in Overseer
And then there's Suzanne Barnes, who reprised her role as Chelsee Bando – what a talent with such a wonderful spirit. Her chemistry with Chris is obvious and essential for their relationship to work. And Suzanne could tell ribald jokes along with the rest of us; we had a blast.
And to credit the actors, not one of them used a stand-in on The Pandora Directive or Overseer!
Ingmar: Overseer caused some mixed reactions. It is by far my favorite Tex Murphy game for a variety of reasons, and I believe it was an enormous improvement in terms of FMV, acting, music and other aspects. What's your personal opinion? 
Adrian: Definitely in terms of FMV the technical quality of Overseer was a major leap forward. Unfortunately, unless you could play the DVD version it was all for naught, a sore point for us all. I believe having the video run at normal speed, full color with 5.1 surround sound made a huge impact and engaged the player on a more emotional level.
A slight digression: I have recently seen The Pandora Directive footage at 30 fps instead of the 12 seen in the game itself and with only a palette of 256 colors, and I must say that watching the performances at 30 fps is so overwhelmingly powerful that I wish I could restore the game to its original quality using the full color spectrum and re-edit the scenes with what I know now about adventure games.
Due to my experience directing The Pandora Directive, I was able to contribute more to the actors' understanding of the how the game works. I am in no way diminishing the performances in The Pandora Directive, but I am saying that I was a better director for my actors on Overseer.
Working closely with Matt Heider on Overseer was one of the most joyous experiences I have had as a director. Matt really defined Tex's theme with a catchy melody and the score was written for a bigger orchestra while keeping the isolationist feel of a noir PI with smoky jazz. He composed with strength, with conviction and went for broke; whether it was the clock tower fight, the chess game or the climactic scene with J. Saint Gideon, they all had the confident hand of Matt guiding the emotional core of the game. The scene with Gideon is very moving; the performances speak volumes and Matt's score underpins the emotional subtext with a haunting beauty.
Many reviews and comments applauded the more dramatic tone taken in Overseer while a few die-hard Tex fans preferred his slapstick shtick. There was much discussion – let's call it debate – about the direction that the story and tone in Overseer would take. 
Because the game was essentially a demonstration for Intel to show off their new DVD and 5.1 surround sound chip, there was more FMV in this game than in The Pandora Directive. At the time this was something the Tex fans and gamers in general were not savvy to.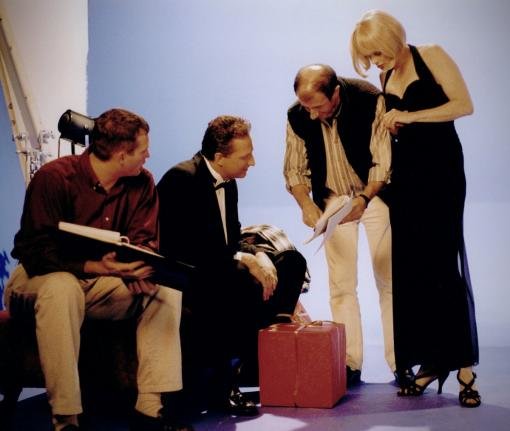 Aaron, Chris, Adrian and Rebecca Broussard on the set of Overseer
Because of the rush to create the demo, there was limited time to work on gameplay and puzzles. I personally feel what Aaron and Chris achieved with Overseer, given the tight schedule, was amazing and a hint of what was to come in the next Tex Murphy adventure. We planned on developing a trilogy of games, all with multiple paths, but we all know what happened when Access Software was bought out.
I think that some of the humor and dialogue by supporting characters seemed a little forced and came across a little melodramatic, given the overall dramatic thrust of the story. This contrast could be what Aaron means by turning it a bit 'soap opera-y'. However, with only a singular path we could not explore the other aspects we love about Tex that we get to see on the multiple paths, and I personally would like to have seen more of his cynical humor throughout.
As Tex travels further into more dangerous territory he cannot, I feel, go backwards. That doesn't mean we can't maintain his sense of humor, it just means the stakes are higher… and we will definitely not become 'soap opera-y' in Tesla Effect.
Ingmar: How did you improve as a director of FMV between Pandora and Overseer, and what lessons from Pandora did you build upon to make Overseer what it is?
Adrian: Overseer was a game changer in many respects, but fans that were critical of the game need to know, it was NOT developed as a full-on adventure game. It was created solely as a demonstration for a new Intel computer chip. Intel wanted to use Tex Murphy to show off their groundbreaking advance in visual and audio technology. Given the very short schedule, Aaron and Chris quickly came up with a story and script that would work but they could only use a linear path, not the complex pathing of The Pandora Directive.  
When I shot Pandora Directive, I never quite understood the Ask Abouts and the choices I had editing the interactive conversations. With Pandora it was very much make a choice of how you answer a question and see the opposite character's answer. For me that was very pedestrian – in Overseer I started editing within the interactive conversation for each answer to see a reaction while hearing Tex's dialogue and cut back to Tex and cut back to the other character in time to get the correct response to that question. This is what made Overseer more cinematic – I would love to go back into Pandora Directive and re-edit all the cinematic clips, including the movie reward scenes as well. However, with this knowledge I plan to take the editing to a whole new level in Tesla Effect that will improve the cinematic and emotional experience for the player.
Also, not many people are aware that Sonny's apartment was an actual set, since all his scenes take place without any interactive conversation. So we shot those like a traditional movie, but I did keep the camera movement to a minimum so those scenes didn't look out of place. Sonny's scenes were more kinetic, as is the elevator ride up to the clock tower; that was shot on location. I wanted to use a real location for the Tesla Effect finale but it was winter and snowing, so very impractical. As it turned out, scheduling of actors would have made this cost prohibitive. But with Mat's talents we were able to achieve this in-engine and that allowed me to incorporate plenty of camera and actor movement in the 3D world.
Tex Murphy: Overseer
Ingmar: What anecdotes spring to mind about your time working on Overseer?
Adrian: We shot an impressive 119 set-ups on one particular 12-hour day. We had Joe Estevez, Rebecca Broussard and Richard Norton on set; it was a crazy day with so many variations for the clock tower sequence and alternative choices. It was made all the crazier in that we had to get Joe to the airport by 7 pm – the ONLY advantage of being close to the airport.
Remember the bathroom scene where Tex is trapped inside Slade's closet? Most of the female staff would find some excuse to visit the day Richard was on set wearing only a towel.
I normally stay behind the scenes but we still had to cast the bad guy, Dalton, and had run out of Access employees. Aaron handed me his scenes. It was then that I read the Dalton scenes and I saw that he was Australian and I shuddered knowing full well what this meant – Aaron and Chris looked at me and said, "You would be perfect." After we shot the scenes I thought it was all over and breathed a huge sigh of relief. I'd relaxed for 14 years until we shot the Kickstarter trailer, when Aaron just smiled at me and hinted that Dalton was going to return. He said the fans needed payback for the cliffhanger.
Ingmar: Michael York's performance as J. Saint Gideon is my personal top performance from any Tex Murphy game. What was your experience working with Michael?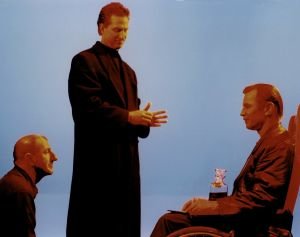 Adrian and Chris on set with Michael York
Adrian: I first worked with Michael York as a film editor back in Australia on a two-part miniseries called The Far Country, and later in Los Angeles I would see him at BAFTA events with his wife Pat. Chris and Aaron suggested Michael for the role of J. Saint Gideon; I told them I could approach him directly and pitch the role. 
Once Michael signed on, Aaron wrote this amazing 10-minute monologue as a movie reward scene. Now, you have to remember we were shooting at the end of an International Airport runway, and to shoot this monologue in one take would require a miracle – I prayed hard and I got that miracle. That night it snowed and the next morning all the flights were diverted to another runway, which meant we had much longer breaks between flights and none overhead.
Many actors had not shot on a blue or green screen set, so I asked Michael his thoughts on how it was for him. He said: "I look at it like rehearsing a stage play where there is no set and you use your imagination to build the world that your character lives in."
Ingmar: Which other actors from Overseer did you especially like working with?
Adrian:  Henry Darrow. I will admit I was fan struck – I mean, I grew up watching this guy on the series The High Chaparral… and here I was, directing Manolito, holy shit! What a gracious actor and wonderful human being. 
Rebecca Broussard was perfectly cast as Sylvia; she was able to vamp in the noir femme tradition. She is such a warm and engaging person and a perfect collaborator. She made my life so easy.
Richard Norton and I go way back to the early '70s. He was best man at my wedding, so when it came to casting the role of Big Jim Slade, I suggested my mate Richard. We would prank all the time on set, and Chris and Aaron fell in love with the guy; he has charisma in spades [no pun intended]. However, Chris was a little anxious before his fight scenes, knowing Richard could snap his neck in less than a heartbeat. I assured him that Richard was one of the most safety conscious fight choreographers I knew. 
Then there's Joe Estevez; he and I immediately connected. Joe knew he had the role of John Klaus, yet insisted on reading for the part. He was so good that I cast him in an indie film a few years later called Mind Games, also starring Richard Norton.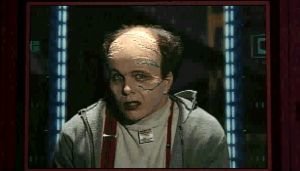 Clint Howard (after make-up)
 
Clint Howard was such a cool guy, very funny. When we were about to apply special make-up effects to his head he said, "I'm weird enough, you really think you need to add any? A total professional who understands production inside and out, nothing was ever a problem for him.
Monique Lanier transformed herself into Wanda Peck; she mesmerized us all with her beauty, poise and ability to cut you down with a look. I was blessed to have her play this tricky role.
Suzanne Barnes…see The Pandora Directive. This time around she also performed as make-up artist, making every woman in the game look stunningly gorgeous.
*** SPOILER
Roger Davis was a real trooper, having bullet squibs put on him for when he gets shot in the cabin siege – they are loud, even wearing plugs. Fortunately we got it on the first take.
*** END SPOILER
Ingmar: I've seen several behind-the-scenes photos from the set of the older games and it seems as though Aaron Conners was involved during every film shoot. What's his job on set?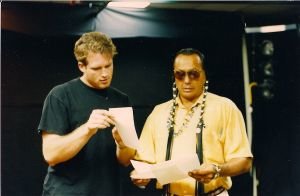 Aaron Conners on the set of Under a Killing Moon reviewing the script with Russell Means
 
Adrian:  As a producer and co-creator with Chris Jones on the earlier productions, Aaron would observe the shoot, looking for any inconsistencies or plot issues that I could easily have overlooked. If we needed to add dialogue or trim a scene down, he would come up with solutions most times on the spot. He was also heavily involved in the game design of the projects. Unfortunately, Aaron was unable to work on Tesla Effect because of his job at Electronic Arts; his presence on set was sorely missed.
Ingmar: What future do you see for FMV games? I always felt that FMV was dismissed way too early, and most people don't have the slightest idea what type of immersive film experiences are possible. Where do you see this medium going?
Adrian: Let me say up front, not every game is suited to FMV, such as first-person shooter games or multi-player games. Using FMV is restrictive, particularly due to the limitations of disc space. However, I believe Tesla Effect will start a renaissance of FMV adventure games. But in the same breath, I caution that if we do not want it to suffer the same fate as in the late '90s, then attention needs to be paid to the overall look and design of the game and not have FMV used as a gimmick.
FMV's use of live actors enhances the emotional experiences for the player, while there is an emotional detachment to CG created ones. The reason the Tex Murphy adventure games succeeded back in the '90s and most others failed was… story. The story has all the elements we have come to expect from a Tex Murphy adventure: it's compelling, mysterious, suspenseful, dramatic, comedic with a kick-ass save-the-world-again scenario for our beloved PI born a century out of time. The futuristic noir world of Tex Murphy is perfectly suited to FMV because it is akin to a movie-style adventure, but still retains all the trademark elements of a game, like puzzles, point scoring and first-person exploration.
The teaser trailer for Tesla Effect was designed as a movie trailer except for the one hint: "Big Finish Games presents".  My idea was to attract a whole new audience, even non-gamers, to see what the story was all about. Even hard-core gamers who despise FMV have begrudgingly said they might actually give Tesla Effect a chance. The next round of trailers will reveal more of the look of the game and the story, and for non-gamers I want to handhold them into the process, knock out some of the fears of playing games. I would like them to treat Tesla Effect like a Choose Your Own Adventure book, especially as Chris Jones plans to have a simplified version of the game for people who would love to experience Aaron Conners's story but are intimidated by the game-puzzle aspects. 
I can see FMV developing into a medium that could deliver adventure stories that have full three-dimensional characters, because CGI cannot capture the subtle nuances and thus loses that elusive quality we call… emotion. 
Ingmar: The late Roger Ebert once made a statement that relates to one of the key problems story-based games have had for years, saying that games dilute narrative, and that story and gameplay are just mixing two different things that don't enhance each other. Right now it seems like with the new era of interactive drama (Heavy Rain, The Walking Dead and others) we're finally getting closer to the point where Roger's statement isn't an entirely accurate description for EVERY game of the new generation. I know that you're not a gamer, but I would love to hear your view on this subject.
Adrian:  And Roger is correct, games do dilute the narrative because they give the player the freedom to go virtually anywhere anytime. Some games have huge territories to explore and they keep adding to them, and many like that ability to wander aimlessly and talk to people; that is one experience. I would play it for like 15 minutes, then get bored and start to dissect the game, just like I would a poorly made movie. I like the concept of being able to talk to characters wherever I bump into them, which I brought up to Chris a few times and his answer made a great deal of sense. 
With a game like Tesla Effect you want to – no, need to steer the player on a certain course while giving the illusion of complete freedom. This is essential to keeping the story moving forward, otherwise the player will go off on tangents and ultimately forget what their goal is. 
Imagine coming out of, say, the Ritz Hotel and Chandler Avenue is teeming with people. You could choose any one person to approach or to follow and they will have nothing to do with the story. Sure, it would be fun but ultimately a waste of time. With adventures you need to keep the narrative moving forward while allowing for exploration within reason. Someone once said, and I think it sums up my position, "Give a man no choice and he will reject it; give him the illusion of freedom to make a choice you want him to make, then he will accept it willingly."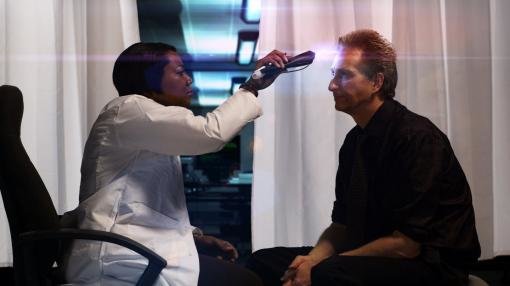 Dr. Donahue examines Tex in Tesla Effect
Ingmar: You are working on several other projects at the moment. Please tell us about them.
Adrian:  Without a Hitch: The master of suspense is kidnapped. The screenplay by Steven (Die Hard/48 Hours) de Souza and Bob Shayne is a thrilling, suspenseful, adventure-romance that Hitchcock himself would relish making, if he weren't in it. It is 1967, and a young screenwriter, Grant Stewart, witnesses Alfred Hitchcock being kidnapped and no one believes him. When Hitch's assistant is found murdered, Grant becomes the only suspect. Now on the run, he tracks the kidnappers to the Cannes Film Festival and there he meets a mysterious blonde, when things really start to get complicated… Have you hooked now, don't I?
A Belly Full: You remember that feel-good emotion you get after watching movies like Little Miss Sunshine, Bridesmaids, Calendar Girls, and The Full Monty? Well, this is one of those feel-good movies where you are moved by tears and laughter. It is a coming of middle-age story about two best friends, Jane and Marnie, who accidentally join a belly dancing class and have more than their bellies shaken when infidelities surface, friendships are threatened and husbands turn the tables.
Demonic Will – a new beginning: Jared Wright is the face of evil in a new horror franchise, set in present day Los Angeles. A drop of blood is inadvertently spilled into a ritual mask, allowing the spirit of the Satanic Killer to take possession of an innocent bystander and continue his bloody reign of terror. The style is a throwback to the '70s horror slashers, so get ready to face fear and white-knuckle your partner's arm or thigh.
Gabriel's Justice: This is a passion project of mine. It tackles a sensitive subject. The film is about a Los Angeles female homicide detective who is investigating the murders of several child pornographers when she becomes romantically involved with the woman she suspects may be the killer. I have been developing this project for seven years and am motivated by the thought that if by bringing it to the big screen there is the possibility of empowering just one victim of child sexual abuse, then it will be worth all my time and effort.
Ingmar: You've worked on countless movies throughout the years. Which are the ones that you are especially proud of?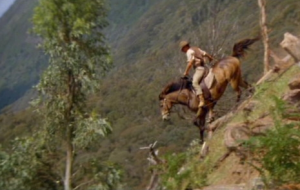 Famous horse scene from The Man from Snowy River, edited by Adrian
 
Adrian:  The Man From Snowy River: It's an Aussie classic poem and I got to edit the most famous horse chase in film history.
Harlequin: The first feature film that I edited where I was able to show off my creativity and was rewarded with an AFI Nomination for Best Editing.
D.A.R.Y.L.: This was my first American movie to edit and I got to travel to the U.S. and London. I felt validated for the first time in my editing career.
The Lighthorsemen: I was proud to have contributed to this true historical event that I had grown up reading about; once again the director allowed me to edit the final horse charge/battle sequence as I saw fit.
Quigley Down Under: I got to direct 2nd Unit on this picture and to forge a friendship with Alan Rickman, who apparently praised my directing work to his fellow cast. The thing I'm most proud of is meeting Rosemary Marks, now my wife of 22 years.
Now and Forever: My directorial debut, a real challenge since I took over the directing reins three weeks into the shoot. I completed the Cheryl Ladd film on schedule and under budget. The film opened #15 on the New York Top Films.
Mind Games: An indie film that challenged me from Day #2 – September 11, 2001. How to work through the tragedy of the World Trade Center attacks while making a comedy suspense film?
My two award-winning short films should be included: Permanent Stays and Blood Makes Noise.
Your readers can view clips on my YouTube playlist.
Adrian's award-winning short film Blood Makes Noise
Ingmar: Which directors left a lasting impression on you throughout the years?
Adrian:  There are so many directors who have influenced and formed my career as an editor then as a director. Most influential are these master storytellers:
Steven Spielberg (E.T.: The Extraterrestrial, Jaws, Raiders of the Lost Ark, Catch Me If You Can, Saving Private Ryan, Close Encounters of the Third Kind, Lincoln)
Richard Donner (The Omen, Lethal Weapon series, X-15, Superman [78], Inside Moves, and on TV Combat, The Man from U.N.C.L.E.)
John Ford (The Searchers, Stagecoach, The Man Who Shot Liberty Valance, Sergeant Rutledge, How Green Was My Valley, She Wore A Yellow Ribbon, My Darling Clementine)
Sir Alfred Hitchcock (Psycho, The Man Who Knew Too Much, Vertigo, Rear Window, The 39 Steps, North by Northwest, The Birds, To Catch a Thief… the rest)
John Frankenheimer (The Train, Grand Prix, The Challenge, 52 Pick-up, Seconds, Ronin, Black Sunday, French Connection II, The Manchurian Candidate)
John Sturges (The Great Escape, The Magnificent Seven, Bad Day at Black Rock, Gunfight at the O.K. Corral)
Dario Argento (the Italian Hitchcock – Deep Red, Suspiria, Opera)
Don Siegel (Dirty Harry, Invasion of the Body Snatchers, Charley Varrick, Hell is for Heroes, Coogan's Bluff)
Sir David Lean (The Bridge on the River Kwai, Lawrence of Arabia, Doctor Zhivago, Great Expectations, Ryan's Daughter, A Passage to India)
William Friedkin (The French Connection, The Exorcist, The Boys in the Band, Cruising, To Live and Die in L.A.)
Sidney Lumet (12 Angry Men, The Pawnbroker, The Hill, Fail-Safe, Serpico, Murder on the Orient Express, Dog Day Afternoon, Network, The Verdict)
Stanley Kubrick (Full Metal Jacket, The Shining, A Clockwork Orange, Paths of Glory, Spartacus, 2001 – A Space Odyssey, Dr. Strangelove, Lolita)
Milos Forman (Amadeus, One Flew Over the Cuckoo's Nest, Valmont, The People vs. Larry Flynt)
Ingmar: There are some good examples of great artists who never went to film school: Werner Herzog, Quentin Tarantino, Isabelle Adjani and others. How do you feel about this "conflict"? Is film school necessary from your point of view, and if it isn't, what do you need to make it (as an actor or director) without learning all these things in a film class?
Adrian: My schooling was fought in the trenches, old school, starting out in the mailroom. Interestingly enough, I never attended any formal film school.  However, as a director I have instructed a few workshops at the Los Angeles Film School and taught an intense on-camera technique class for the outspoken acting coach Ivan Markota Jr. for four years.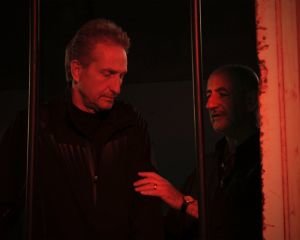 Adrian on set with Chris in Tesla Effect
For me, Film Universities or Colleges that provide a BA in filmmaking are beneficial because they also teach the BUSINESS of filmmaking, not the heady fantasy which tends to produce many wannabe filmmakers, directors who can't get a foot in the door or writers whose scripts will never be read. Film schools are important but sometimes I feel they do not represent the business, just the craft, so you spew out 200 grads each year into an already flooded business and many become disillusioned that it's not as easy as they thought. Then they realize they need to pay their dues and work their way up; there are exceptions, of course, but they are a rare breed.
Having a clear objective helps even if that objective changes along the way. One advantage of film schools in general is that they give you an overview of all the positions on a crew. You might find you're suited to one specific position over another; not everyone can or wants to be a director. I did study photography and I believe you still need to learn all the aspects of filmmaking to be a solid director, just not necessarily at a film school.
Certain areas of film production are essential to understand for you to be a solid director. Aside from writing, editing and a good understanding of still photography and/or cinematography with attention to lighting, even a grasp of Visual Effects these days are all fantastic tools to have in your knowledge arsenal. 
Enroll in an acting class for six months and you will have a greater appreciation for what actors do and how best to collaborate with them – having some knowledge of make-up, sound recording, post production sound and music are all valuable too. Filmmaking is a truly collaborative process.
Acting schools can be excellent, good, so-so or rip offs. Starting out and being on set as an extra is one of the best experiences you can have as an actor [and you're paid to be there]. Instead of texting and tweeting on your cell phones, watch what's going on around you and LEARN. Without making a nuisance of yourself, ask questions of crew members; most love to talk about what they do, especially to people who really want to learn. Use your own judgment and be respectful if they say they can't talk because they're busy.
Ingmar: Please talk about your own career ladder now. How did you start out and work your way up until you got the chance to do your first feature film?
Adrian:  As a child I grew up watching television in the mid 1950s. I recall saying to my mom that I wanted to be like Bronco Layne and as I grew older I would act out stunts in my parents' holiday movies. In my early teens I would snag dad's 8mm camera after a wedding and if there was a short end left I would film a fight scene complete with in-camera edits. Needless to say, there was often a shock ending to family weddings. One weekend I had my younger brother hide inside a large bush by the freeway, and had him film the traffic as it slowed to watch a brutal and bloody fight between a mate and I. We watched the footage after it was processed and cracked up at motorists' candid reactions to the fight; one car even circled back around for a second look. In hindsight, probably not the smartest thing I have done in my life. However, you can see filmmaking was in my blood from an early age.
In 1969 at Secondary School things got more serious. I was 16 at the time and my art teacher, John Eagle, asked if anyone was interested in creating a 16mm film as part of the curriculum and I volunteered. This had never been attempted in general education, other than the two film schools operating at the time in Australia.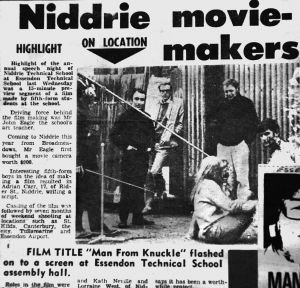 Newspaper report on Adrian's short film parody The Man from N.U.C.L.E.
 
The Man from U.N.C.L.E. had a big influence on me in the mid '60s, so we shot a twenty-minute parody called The Man from N.U.C.L.E. (the Network for Utter and Complete Lunacy in Espionage). There was no turning back after that experience, and this was long before videotapes and DVDs. I would like to think that in some small way our film had an influence on filmmaking/media being taught in schools in Australia today.
Around this time, one morning I went to collect the bottles of milk at the front gate and discovered an envelope in the mailbox with my name on it. Inside was AUS$200 with a note that simply said, "I hope this little sum will help you to live your dreams." To this day I do not know who left it for me but I have been living that dream ever since.
My first professional job was working in the mailroom at the ABC (Australian Broadcasting Commission). Within three months I transferred to the editing department and spent the next three years cutting my teeth on news and documentaries. I even directed and edited a promo spot for This Day Tonight, which was to air just one night but ran six weeks and became the end credits for the show. At the same time I studied photography three nights a week, and to understand actors better on weekends I trained in the Stanislavski acting system for two years with the late Shayna Hevron. These skills helped me as a film editor, then later as a director to better understand truth in performances. I have had to step in several times to read lines opposite actors or even take on the odd role (Dalton Fisk in Tesla Effect).
In 1974 I left the ABC and went to work for Crawford Productions, the largest production company in Australia at that time. I worked as an assistant editor for two years, then was promoted to editor when I threatened to leave them to study film in the U.S.A. at UCLA. Impressed with my work after just three epiosdes on a video/film-integrated show, the Head of Production moved me over onto their flagship series Homicide and I was charged with editing their only movie-length episode Stopover, which won several television awards. 
After racking up four years of drama editing I joined Fred Schepisi's Film House and started cutting commercials on 35mm. While on staff at Film House I edited the feature films Harlequin and the top Australian box office hit at that time, The Man from Snowy River. After several years editing features and commercials, I decided it was time to go freelance. 
Two weeks into editing the Cheryl Ladd movie Now and Forever, I was asked to take over the directing reins when the director was let go the morning of the third week. This decision was not made lightly – there was $3.5M at stake and I had to be approved by the Bond company and Cheryl Ladd. By 5 pm that evening I was directing my first film. We filmed 2nd Unit material to keep the bean counters happy while I was brought up to speed. The schedule went something like this: I came on to direct Week 3 and we needed to reshoot most of week 2. I started actual shooting Week 4 and caught up Week 2 and the down Week, 3, and came in only 4 hours over schedule. Our shooting ratio came down from 23:1 to 5:1. The film opened at #15 on the Variety Top 50 movies.
This was not how I expected to direct my first movie, but I stepped up to the plate and thanks to my editing experience I completed the movie on schedule and under budget. It was on Now and Forever that I realized I could direct, but first I needed to learn more about script writing.
Now and Forever, Adrian's first film as director
Ingmar: Thank you very much for doing this long interview, Ade. Most appreciated! We can't wait to see your work on Tesla Effect and wish you all the best on your other projects as well. Hopefully we'll be talking about a new Tex Murphy sequel in our next interview. To close I'd like to give you the chance to tell the loyal series fans out there why waiting 15 years has been worth it.
Adrian:  Thanx, Ingmar, for allowing me to ramble and hopefully not bore your readers but give them insight about who I really am. To the Tex Murphy community, the backers and fans, I have said this before and I will say it again… your love and persistent loyalty is what has fueled us for the past 15 years. Together we have surfed the wave of uncertainty and ridden it out without being dumped. I understand what it means to be a fan of something – in my case it was The Man from U.N.C.L.E. – and there's an overwhelming feeling of pride that I, along with Chris and Aaron, am able to bring joy, satisfaction and a fulfillment to Tex fans worldwide. 
The BFG team has put a lot of effort into bringing you the best Tex Murphy experience ever and we believe the wait will be worth it, with many of your questions being answered. But the proof is in the pudding as they say (one day I will find out who 'they' are/is).
A special shout out to the Kickstarter backers who participated in the actual on-set shooting of Tesla Effect. You guys and gals went above and beyond to help bring back Tex, bigger, funnier, darker and more exciting than ever.
Let's talk again when the sequel is gearing up!
 
---
As if that weren't enough Tex Murphy goodness for one sitting, there's still more to come... The best part of dealing with directors is that they love the camera! Turn the page for another wealth of exclusive Tesla Effect screenshots, behind-the-scenes green stage photos, and storyboards. Many thanks to Adrian Carr and Big Finish Games for sharing these shots, many of them never-before-seen. (Note: click any image to enlarge.)
---
Tesla Effect screenshots
Tex confonts a Morlock... Yep, just as we suspected: Morlocks are just as hideous from behind.
This could get interesting. First Taylor makes her move, then Ariel seduces Tex.
Tex is a real hit with the ladies, like in this train encounter... but sometimes the ladies hit back, as Saffyre is ready to rumble.
Tex Murphy, noir P.I. and a 1940s mystery woman. In black and white, no less... Hmm!
There are several familiar faces in Tesla Effect, like Big Jim Slade, and Archie Ellis experiencing deja vu.
There are also several notable new faces, including June Lockhart as Margaret Leonard and Larry (Seinfeld's "Soup Nazi") Thomas as Lt. Danwicz.
Some scenes are all-too-real, like this breakout attempt, and some less so, like this hologram named "Holly Graham".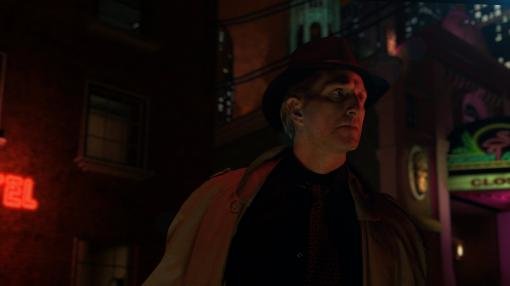 And one more of Chris Jones, because you just can't have too much Tex.
Before... and After
The same scene: one a production shot, the other the actual 3D composite with a moving ocean in the background.

On the Green Screen Set of Tesla Effect
Everyone's hurting in Tesla Effect. Taylor tends to a bleeding Tex, and Dalton roughs up - gasp! - Chelsee!
| | |
| --- | --- |
| | |
| Adrian rehearsing with MoJo (Travis Eberhard), an electronics whiz who manages Inspector Burns BBQ | Suzanne Barnes, Chris Jones and Adrian enjoy one of many light moments |
Just like old times for returning veterans Richard Norton (Big Jim Slade) and Douglas Vandegrift (Rook in make-up)
| | |
| --- | --- |
| | |
| Adrian demonstrates free falling to Richard Norton (Big Jim Slade) | As Tex himself, Chris Jones knows all about falling. |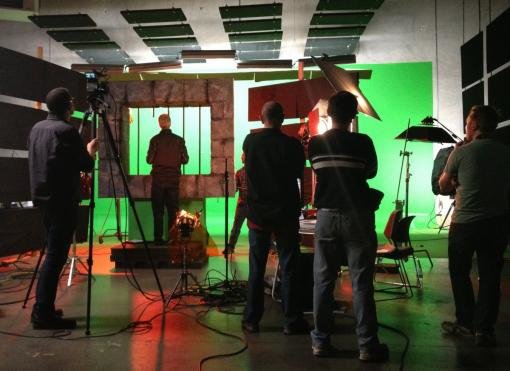 Shooting film on Tesla Effect
Tesla Effect storyboards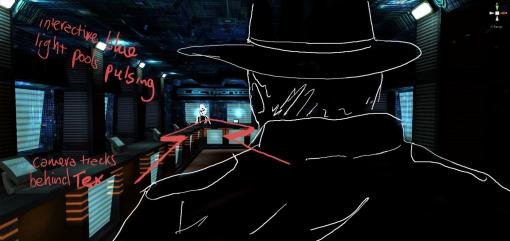 Newly designed electronics shop; storyboard used to help the Director of Photography with lighting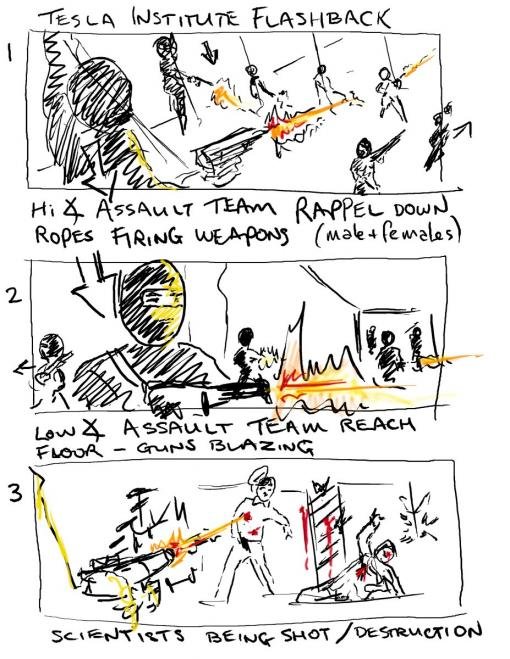 The Institute raid