Gamescom round-up: Nando's World, Steve Ince, and Lilly Looking Through
archived preview
Nando's World
So these two psychologists walk into a bar... no, I'm not going to tell a bad joke, but indie NHIM developers Alberto Venditti and Eleonora Bottini are both psychologists themselves, and they chose to meet me away from the madness of the gamescom halls in a small bar outside the venue. Their upcoming adventure Nando's World was conceived in a bar in Rome, and it was inspired by diverse sources such as Philip K. Dick and Hayao Miyazaki, as well as real people close to Alberto and Eleonora.
Unfortunately, I didn't get to see anything of the game in action, but the basic premise is that mankind has completely destroyed nature and reconstructed the world with cybernetic animals (the few non-cybernetic ones are all in zoo-museums) and electronic trees. With the medicine Yo-Yo-Fe (Young Young Forever), people can now be immortal, but those who refuse to take it are confined to the tightly controlled small towns called Cities of the Elderly. Our protagonist, Nando, is one such person. When one of his friends dies, Nando finds a letter that reveals his friend isn't dead but has fled to an island where people live in harmony with nature. Of course he wants to see for himself, so Nando sets out to find his friend.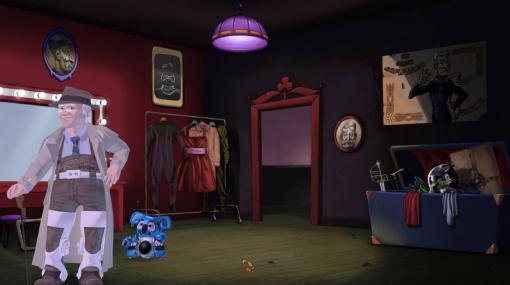 With psychologists as designers and writers, you would probably expect the game to be full of deeper meanings and metaphors, and it is. The reality of the world we live in and its many cultural meanings characterize the game in abstract ways. Alberto and Eleonora assured me that this is not something the player will be conscious of while playing, as the entertainment value of the game is by far the most important. Everyone can embrace only those aspects of the game that interest them, but if you do want to engage on a deeper level, you will find many concepts and interpretations.
The story of Nando's World will span two episodes, and the journey will take its hero through ghost towns and strange communities, where he will meet eccentric characters such as a koala-like creature called Genius Loci. The environments are hand-painted and the characters drawn in a cartoony 3D. The game will have graphic novel-style cinematics, while the music will be written by a fellow Italian, Andrea Pandolfo, and performed by his band Out of Tune.  There is still no firm release date for the debut episode, but the developers are currently hoping to launch the game sometime before the end of the year, with the follow-up installment already in pre-production.
Steve Ince
While Steve Ince is best known for his work at Revolution and then later as a freelance writer/designer on So Blonde and Captain Morgane, he has also worked on several other games recently. Perhaps most notably for adventure gamers, he was involved in the design and story for Broken Sword: The Serpent's Curse prior to its announcement, though he is not currently involved with its ongoing production.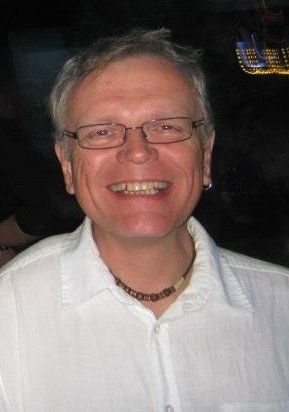 Steve Ince
In our meeting at gamescom, Steve also briefly touched on the Sam Suede Kickstarter campaign that encountered many problems and did not reach its funding. He said he really believed in the potential of the game, having seen Al Lowe's original script, and still has high hopes that perhaps we'll see it reappear sometime, either through crowd-funding or with publisher support. On the subject of crowd-funding, Ince applauded the fact that many developers are so supportive of each other's campaigns, but he also expressed fears that there have been so many adventure-based Kickstarters lately that even big name projects like Tex Murphy and SpaceVenture have struggled to get funded. 
Steve has been working on a couple of his own projects as well, like an adventure game sequel to his web comic Story to Nowhere called Caroline's Secret. The protagonist discovers his wife's secret diary after her death, and learns things about her that he never knew before. It's a very personal story about coming to terms with loss and dealing with the fact that even when you think you know someone very well, they may have secrets. Story to Nowhere has a very specific art style that is very atmospheric, but Caroline's Secret uses a different style that Steve says also allows him to really set the mood for a scene. The story will also incorporate puzzles like finding a tool to cut away a bush to reveal a path.
During our chat, Ince mentioned some recent non-games like Dear Esther, which he thinks is an interesting artistic experiment that will lead to new titles being made, but the lack of actual gameplay is not something he would ever choose for himself. Another game he has been working on is based on some characters he created for a young audience, Star Sweet and Honey Heart. He has been experimenting with art styles here, too, changing the look of trees and other background art from the sketches he has published on the website. He still wishes he had more time to return to Sapphire Claw, but apart from his involvement in several games he isn't able to reveal yet, he is also currently working on the script for a television series, so it seems that his busy schedule won't be slowing down any time soon.
Lilly Looking Through
Leho Lahtvee
In June, Lilly Looking Through experienced remarkable success with its Kickstarter campaign. Steve and Jessica Hoogendyk raised almost double their target goal of $18,000 and were able to grow the Michigan-based Geeta Games to six people. They are now on track to launch the game in May 2013, at least on some platforms (it should be available for PC, Mac, Linux, iPad and Android eventually), and the game's German publisher Headup Games organized a meeting with Steve and Jessica to see and talk about the game in Cologne.
The main character is 8-year-old Lilly, whose adventure starts simply by chasing a mysterious red scarf that plays an important role in the game. While doing so she acquires a pair of magical goggles, which reveal a glimpse into another time. This other time-dimension is not just visible, it's very real and changeable. The gamescom presentation revealed only a few scenes that are not in the public demo, but one showed how Lilly had to find a way over a gap, altering elements in both dimensions to succeed. According to Steve, the puzzles will be mostly navigational, mechanical and dimension-based, where players have to make changes in the present or past dimension ("at least" the past and present, he cryptically hinted) to find a solution and continue along the path. In some instances, you'll also control Lilly's younger brother Row's actions. There will be no inventory, except for the goggles. Everything needed to solve puzzles is in the world itself; Lilly and Row just have to be close enough to an object to interact with it.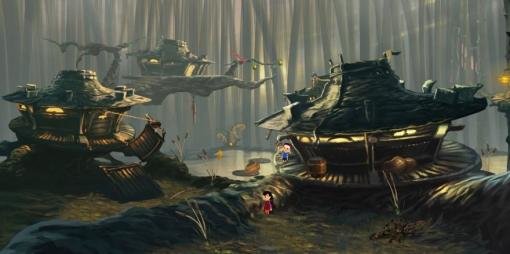 As one look at the screenshots suggest, the hand-painted artwork looks beautiful! All animations are custom made by Jessica, and it's clear that the developers come from the movie industry, having also worked for animated movies. Lilly Looking Through displays some obvious Disney and Hayao Miyazaki influence, and other sources of inspiration for Geeta are the Syberia series, The Longest Journey, Ico, Fable... and also Michigan as a place. Last but not least, there's also Myst and Riven, as Steve himself is a Cyan veteran. The game tries to create a melancholy feeling of solitude, at least in the demo. There isn't a lot of voice acting, but the music composed by Chris Beazer does all the work needed to play with your emotions.
Lilly's journey should take about 4-6 hours, during which time she will meet other characters and strange monsters. That's all the developers are willing to reveal for now, but already the game promises to be a quality indie adventure, its attractive visuals and nice soundtrack immersing players in this world with two faces, making you think about change and empathizing with Lilly in her personal quest.