Events Coverage
Reporting from E3, GDC, AdventureX, Gamescom and other gaming events around the world
When I first stumbled across a rumour of an Adventure Gaming Expo in the UK, I dismissively put it in the back of my mind until freeware developer Infamous Adventures announced that they would be making an appearance to showcase their latest game. Intrigued, I clicked my way to the AdventureX site and found that the event was due to take place on the weekend of December 17-18 at Didcot Parkway. I chose to go on Sunday, facing the usual endless delays of getting around London's decrepit weekend train/tube network, a lengthy coach tour to Oxford, followed by another train that (finally) arrived at my destination. By that time it was around 2pm, so I'd potentially missed out on half the action by that stage, but lucky for me things were only just getting started.
What looked like a washed-out old business depot was the Didcot Labour Club, a small local bar with a function room on the first floor. Trying to find an entrance to this building was a problem -- there isn't one! Well, no front door at least, just a side entrance next to the beer kegs for what you'd expect to be the staff entrance. Fortunately, as I was exploring the downstairs area trying to find a way in, I ran into indie developer Mark Lovegrove (aka Screen 7), who showed me upstairs to the main event after a quick introduction.
Mark was the main organiser of the event, and he highlighted the attractions coming up over the course of the day. For the most part it was meeting with other independent developers and trying out some of the latest pre-release adventure demos. Chris Jones, the creator of Adventure Game Studio (AGS), was there to give a talk, along with developer Alasdair Beckett-King, designer of Nelly Cootalot, followed by a pre-recorded message from Ben 'Yahtzee' Croshaw, well know AGS developer and reviewer (not to mention former Adventure Gamers staff member). In addition, many games either complete or still in development were being showcased on a large LCD Television at the front of the room.
There weren't many people there that day, and the event itself was fairly basic, with only a few PCs allocated in a room that was built for more musical events. This made it one of the more down-to-earth set ups I've encountered, and a welcome opportunity to catch the developers in a relaxed environment, with little or no pretension involved. Still, seeing that the event was a public expo, a little more showmanship and polish would have enhanced the venue – at least an effort to cover up the shabby curtains might have helped a little. Really this was a developer conference, however, which just so happened to be open to the public and probably shouldn't have been labelled an expo on its first run.

Space Quest II remake
After chatting with some of the guys and briefly trying out a few AGS demos, I gravitated to what had become the event's main attraction, Infamous Adventures' Space Quest II remake, presented by the ever-gracious 'Broomie'. Looking at the game in its final beta stage (it has since been completed and publicly released), I was suitably impressed by the obvious effort put into it. Released in 1987, the original SQ2 was a difficult keyboard-controlled adventure with basic EGA graphics and a minimalist soundtrack spluttering out from a PC's internal speaker. About the only thing that makes the game palatable today is its parody of science fiction themes and sarcastic humour. It was a pioneer for the genre at the time, but when one goes back to this title using DOSBox, it's barely playable now, with an outdated text parser that only manages to capture the most basic commands and an opportunity to die at just about every possible turn with its cumbersome controls, making you wonder how the game managed to be successful in the first place.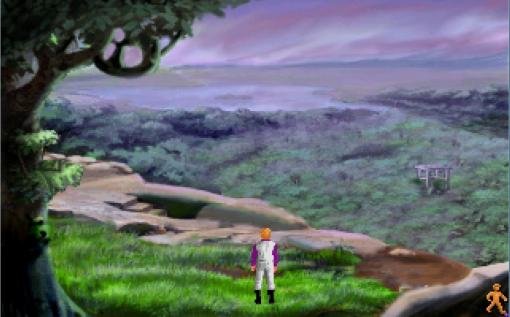 The remake updates both the graphics and engine, successfully implementing a point-and-click interface that immeasurably improves the game's playability. There's also been a host of minor changes which ever-so-slightly modify the design without significantly deviating from the original version of the game. There are still plenty of chances to die, but this time around you are a bit more in control rather than fighting the parser and the keyboard to perform critical actions. Visually the game looks incredibly polished, and it's now accompanied by an equally impressive soundtrack. I was pleased to get an early glimpse of it before it went public, but now that it's been released, we'll have more on the game in our next freeware round-up.

Chris Jones
No, sorry, not the Tex Murphy guy. This is the other Chris Jones, but certainly no less important. For anyone who hasn't been paying attention, Jones is the creator of the one and only Adventure Game Studio, the freeware and now open source software package that has been the foundation of numerous adventure titles. So while many may not know his name, Chris has had considerable influence on all those who have used and benefited from his work. A programmer and developer from the UK, he just wanted to make his own adventure games and one day set out to build an engine for just such a purpose. After doing so, he released his software on the internet and lo and behold, an entire development community sprang up around him! Apart from a demo he created for AGS, Chris hasn't actually completed his own adventure game as yet, as after a few attempts he realised this wasn't his greatest strength and instead concentrated on making AGS itself better.
Chris himself is a fairly low key individual, calm and relatively humble, more of a fan than someone you'd expect from someone who's accomplished so much. This impressed me, as I was anticipating a more showy individual, agonisingly proud of his achievements, but instead here was someone relaxed, open, easy to talk to and perhaps even a little nervous about getting up in front of the crowd and being filmed. When he took to the stage, Chris offered some general insight into the history of AGS, which is now more than ten years old, and some ideas as to where it might be heading. Currently AGS is no longer under development and officially no longer being worked on by Chris. Instead it's been officially released as open source software, so it's now available to all to be enhanced and altered, should another developer decide to take up this challenge.
There's also some discussion of the possibility of a port to the iPhone/iPad/Android platforms. Whether this is completed by Chris or an outside party remains to be seen, but there's general acknowledgement that it may be a good option for commercial developers, or for anyone wishing to port their titles to touch screen portable devices. It makes sense: adventure games seem like a perfect fit on mobile platforms, offering direct interactivity and reducing the need for higher-resolution graphics. Not that the latter is being ignored. Chris also put out a call to any interested developers to drive improvements, incorporating more features such as higher resolutions and removing some of the limitations AGS currently imposes.
One of the questions I posed to Chris was whether he might commercialise AGS if it became available on mobile platforms, to which he responded with a no, stating that AGS will remain a free open source platform for all. It's an honourable position, especially considering how many other tools involve a small cost or percentage for using them in commercial titles. It almost seems a shame that Jones will never benefit financially at all from his creation, but perhaps he relishes more the knowledge of what his efforts have done in bolstering the adventure gaming community. Without AGS, a large selection of indie games that we have available today just wouldn't exist (or be nearly as good), and that's something we can all be grateful for.

Alasdair Beckett-King (Nelly Cootalot 2)
I'd only played Nelly Cootalot: Spoonbeaks Ahoy! briefly before real life interrupted and forced me to abandon playing it at the time, but I remember being pleasantly surprised by the excellent quality and unique art style. When the game's developer Alasdair Beckett-King took to the stage, I wasn't quite sure what to expect; with his long red hair and beard, he's a striking individual that's hard to miss. Alasdair started off with some amusing anecdotes about what he's been doing over the last few years, a little about how his living standards and lifestyle have massively decreased after becoming a freeware developer and student (even using a graph to illustrate) and how the original Nelly Cootalot character was loosely based on his girlfriend (now fiancée), who also happened to be sitting in audience.
Expecting the conversation to turn in the direction of how the game was designed and offering tips to other developers in the audience, instead Alasdair opened with a quick demonstration of his next game already in development, Nelly Cootalot 2. Unlike his previous game, the sequel will be a commercial release and has been worked on extensively. This time around, he is moving away from 2D sprites and incorporating 3D cel-shaded player models against highly detailed cartoon backgrounds. Quite a few of the scenes already show a considerable amount of interactivity, and combined with Alasdair's quirky humour, this could very well be a unique indie hit when it's done.

Other Things of Note
Before proceedings came to a close, the audience was presented with a special recording from Ben 'Yahtzee' Croshaw, who currently works on an internet show each week called Zero Punctuation. Yahtzee is a notable indie developer himself, having created several popular freeware titles over the years, most notably the Rob Blanc trilogy and the Chzo Mythos series. Displaying much of Yahtzee's unique brand of humour, there were three major themes in his speech, the first being a principal he referred to as the "Use Key in Door" puzzle concept (i.e. using an item to affect another object, whatever those may be, in order to overcome obstacles) and how almost all adventure games ultimately come back to this particular type of design. The second theme was a little history of the adventure gaming landscape in a rather ad hoc fashion, before moving onto the convergence of mainstream gaming with adventure games and how they are taking form in both the mainstream and indie marketplaces in present day.
There were more than 25 games and demos on display, and nowhere near enough time to try them all out. Apart from those that have already been mentioned and a few that have since been released (and will get more AG coverage shortly), some of the games that really stood out to me included:
City – Ben304
Doc Apocalypse – Midian Design
Entrapment – Lightbulb Games
Kinky Island - Screen7 (AO 18+)
Timeless Journey – repulazido
AUTOMATICITY – by Matthew Frith, Drew Wellman & Nick Tringali (no link currently available)
There's no disrespect meant to any of the games not listed here, as I simply didn't have time for all of them, so you should check out the full list of the games on show.

Final Thoughts
Seeing that this was a first attempt at organising an expo, I thought I might throw in some ideas as to what could have been done a little better. One is the variety of developers attending the event; this was a rather AGS-focused crowd, and the event should try to be as inclusive as possible, making an effort to get more commercial developers on board, people using different development kits such as Wintermute Engine and Lassie Adventure Studio and more industry luminaries if they're willing to attend (though apparently I missed Discworld Noir's Chris Batemen on the first day). Another suggestion would be to organise a better venue in a more central location, perhaps even getting some sponsorship to help pay for the next one and an event co-ordinator to smooth over the presentation and work on little things like layout and refreshments.
Of course, a new start-up of any endeavour is always going to experience its growing pains, and the most important first step in making this event a success was simply taking it. The rest will come from experience and exposure, and hopefully this will indeed become a go-to event in years to come. Even with its humble beginnings, the AdventureX expo was a great day out, and its lack of polish in places was easily made up for by the wealth of indie talent and the interesting games on display. Let's hope there are many more yet to come!
Referenced Adventure Games
feature
Other articles you might enjoy