Puzzle Agent 2 hands-on
archived preview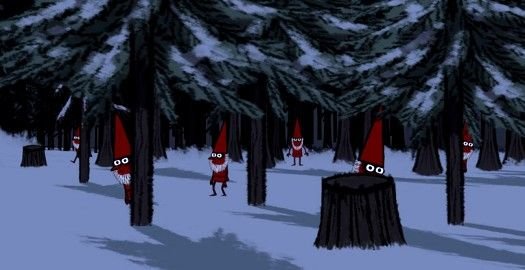 It's been a year since Puzzle Agent's Nelson Tethers first arrived in Scoggins, Minnesota to investigate a mysterious explosion at the town's eraser factory, and the Hidden People inside our heads are getting restless. (Admit it: You hear the whispers, don't you?) The secrets still concealed beneath a blanket of winter snow will finally be revealed in Puzzle Agent 2, coming to PC, Mac, and iOS this month. I recently played through a beta build of the PC version, and it's looking like the return trip will provide just as much puzzling fun as the original.
This second installment spins into even crazier territory than the first, linking the mysterious Hidden People and disappearance of eraser factory foreman Isaac Davner to a rash of missing person's cases and bizarre conspiracy theories. The stark cartoon art is once again based on the Grickle comics and shorts of former Telltale art director Graham Annable, who helped with development by storyboarding and hand-animating many of the game's key scenes. Longtime Sam & Max collaborator Chuck Jordan wrote the script based on a story developed by Annable and Telltale veterans Jake Rodkin and Sean Vanaman.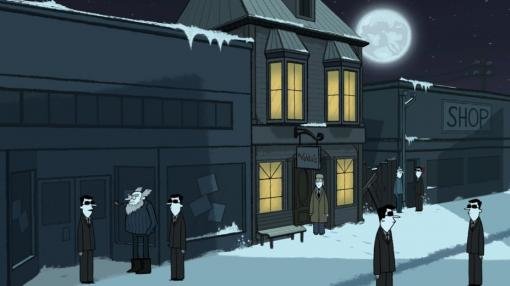 Though some time has passed since Agent Tethers' first visit and the FBI's Department of Puzzle Research has since closed the case, Nelson can't shake his visions of the Hidden People—eerie forest gnomes who frequent the Scoggins area and speak in whispers. Calling it a vacation, he returns to Scoggins to continue the investigation on his own. Upon his return (where his reception by the locals is even frostier than the first time), Nelson learns that Isaac Davner's disappearance isn't all that unusual. In fact, people have been vanishing in Scoggins for over a decade.
Before he can put the mystery to bed, Nelson must tease out more details about the still-missing Isaac, sort through the townspeople's contradictory opinions on the true nature of the Hidden People, visit a handful of new snowy locations, and of course solve plenty of puzzles. Along the way we're introduced to new characters like Agent Jim Ingraham of the FBI's vegetable crimes division and Korka, a sexy puzzle-solving comrade. Nelson also encounters familiar faces such as hotel proprietress and "hot dish" connoisseur Martha, the shifty Sheriff Bahg, and Isaac's stricken wife, Glori.
The game plays much the same as the first Puzzle Agent, with standalone brainteaser puzzles sprinkled throughout the unfolding story. Nelson converses with other characters via traditional dialogue menus, and travels between locations using a handy map. It's a third-person game with a point-and-click interface (or point-and-tap on iOS) but exploration is limited; each single-screen location has a few hotspots to observe, but there's no wandering around and no items to collect or manipulate. The distinctive hand-drawn background art, minimalist character animation, Nordic-tinged voice acting, and suspenseful soundtrack combine to present the same quirky/creepy atmosphere that both the first game and Annable's Grickle shorts are known for.
The original Puzzle Agent was criticized for having too many of the same types of puzzles, and Telltale has taken this feedback on board. The new game's puzzles have more variety and, thankfully, clearer instructions. Some of the offerings include logic problems, sliders that involve moving oddly shaped items around on a grid, number patterns and math-based riddles, visual differentiation (e.g. ordering snapshots correctly by identifying the differences among them), and a series of puzzles related to lunar eclipses. They're also more tightly integrated into the story, making Nelson's return to Scoggins less of a Professor Layton-style hodgepodge and more of an investigation worthy of the FBI's top puzzle man.
The puzzles aren't impossibly difficult for those of us with average IQs; thanks to the built-in hints, I was rarely stumped to the point of frustration. The three-tired hint system is once again fueled by ABC gum, and Scoggins' sanitation department must be off for the winter, because wads of gum are plentiful around town—meaning a hint will always be at the ready when you need it.
If you like problem-solving, chilling mysteries, and surreal, creepy atmospheres, dig out your snow boots and steel yourself for some steaming hot dish, because the snowmobile to Scoggins leaves in just a few short weeks. For now, Telltale's offering Puzzle Agent 2 for PC and Mac at the preorder price of $8.99, and it comes with a free copy of the first Puzzle Agent game that you can keep for yourself or gift to a friend. The game is scheduled to hit these platforms as well as iPhone / iPod Touch and iPad on June 30.
Referenced Adventure Games
archived preview
Other articles you might enjoy