Following Freeware: October 2010 releases
This month, you can be a travelling storyteller, a demonic servant of the devil or a girl lost in a fairytale wood. Travel back in time to the era of the plague, forward in time to a virtual reality-based future, or backwards and forwards in time trying to fix a strange disaster. Or go adventuring at a palace, revolt in a castle or take flight (sometimes briefly) in two steampunk airships. There's even an opportunity to take on an old role as a fan-made addition to a popular commercial series gets an important update. And did I mention you can do it all for free?
 
---

Broken Sword 2.5: The Return of the Templars
Life has been tough recently for George Stobbart. First he was forced to leave Nico for a year, then his beloved grandfather died. Then, out of the blue, a telegram arrives telling him Nico is dead. Rushing to Paris, his joy at finding Nico alive is tempered by her strange, almost cold, reaction to his return. Sitting in the cafe where it all began, he is accosted by Andre Lobineau, who tells him a disturbing tale of Nico's recent activities, including a brief disappearance. Could the cult of the Neo-Templars not be quite as dead as he thought?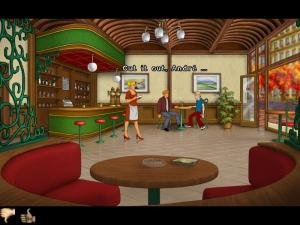 This fan-made addition to the popular series by indie developers mindfactory (with full support from Revolution) has been available for some time in German with English subtitles. This month finally saw the release of an English voice-pack, allowing players to enjoy the game fully in English for the first time. The production values of this game are on par with the original two commercial releases, with detailed graphics and a full orchestral score. Locations from the first game, such as the cafe only now reopening after the explosion that set George on his adventures, are faithfully recreated. The voicework is competently done overall, though George himself is slightly weak and has a marginally different accent to the actor of the original games. This shouldn't be enough to put anyone off, however, as otherwise this is a game that looks like it could easily justify a commercial release.
The game can be downloaded from one of the listed download mirrors and the English voice pack can be downloaded directly from the developer's website.

Technobabylon: Part 1 - The Prisoner of Fate
In a dystopian future, unnamed forces seek to isolate and destroy a young woman. Unaware of this animosity, she lies on her bed, immersed in the virtual reality world of Trance, a connection between millions of individuals worldwide. When her apartment is isolated and all connection to the outside world is lost, she is thrown back to the reality of her cramped one-room apartment. With only its sparse contents and the local computer resources she can link into her virtual reality setup, she must find a way to get out.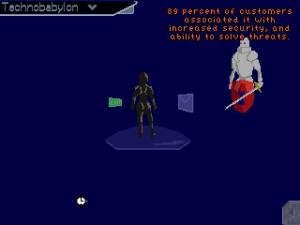 In both tone and look, Technocrat's series debut is very reminiscent of Beneath a Steel Sky, and this game actually stands up well to that comparison. In particular, the virtual reality world – with the protagonist's powerful-looking avatar and physical representations of programs like the security system's knight – reminded me of Revolution's classic. In contrast to the full-screen virtual world, the actual apartment sits cramped in the middle of the screen, taking up no more than half of the available space. This visual trick effectively explains why the young protagonist might prefer the virtual world. The contrast is further enhanced by an upbeat semi-techno tune in virtual reality against a doleful piano piece for actual reality. Puzzles involve switching between the two worlds, as actions in one world often open new options in the other. Be aware that, as the included readme states, the save system currently doesn't work, though the game is short enough that this should not prove a problem.
The game is truly a "part 1", as a cliffhanger ending gives promise of more to come. Technobabylon: Part 1 - The Prisoner of Fate can be downloaded from the AGS website.

The Trader of Stories: Bell's Heart
Myosotis is a trader of stories, a traveller who makes a living from gathering and recounting tales in the places she passes. A broken cart wheel forces her to seek help in a small village, and though a lack of funds initially make things look bleak for our traveller, the village has a story to tell. As Myosotis, can you piece together the chronicle of Derrida and the butterfly woman?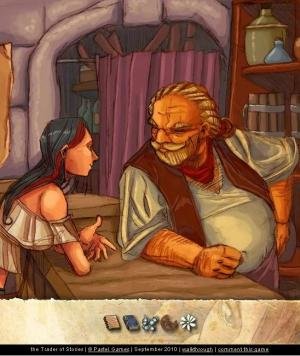 Presented in a browser-based slideshow format, this game has a soft pastel look, with a folk music-style guitar tune providing a pleasant backing. The setting is a light fantasy world where magic exists but does not control all aspects of life. Navigation can be slightly confusing at times, especially in one case where you have to climb up a hill to visit a lake in the valley behind you, but the relatively small area prevents this from being a major problem. With the exception of the main quest, most puzzles are inventory-based, with conversations providing hints and direction. The narrative you seek is pieced together from dialogue, items and locations. In a nice touch, it builds up in your storybook not only as lines of text, but also beautifully illustrated panels of the tale.
This is a self-contained sample of an intended larger game by Marek Rudowski and can be played online at Escape Games 24.

Morbid: Chapter 2 - The Cure
It is the time of the Black Plague. Death sweeps across Europe and millions die in agony. But not all the dead rest easy in their graves. Having despatched one of these creatures in the first chapter, as the unnamed protagonist you now find yourself near a monastery that offers hope of a cure. Yet as you search for the necessary ingredients, you find the nearby buildings to be virtually devoid of people. Is this all the work of the plague or was the thing you killed not alone?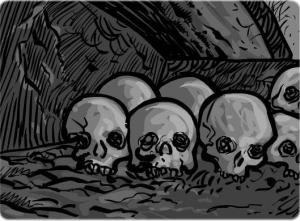 This game picks up where the (recently re-released) previous chapter left off, literally commencing in the same location. In keeping with the sombre nature of the story, black and white graphics with a gothic tone are the order of the day. There is the occasional splash of red, but this is reserved for the less natural inhabitants. Whilst improved with more obvious pathways than the previous instalment, the stylised graphics still make it difficult to distinguish hotspots, whether exits or objects, from the backgrounds. Other than that, the puzzles are mostly logical and generally not too taxing. The atmosphere is well-maintained with the graphic style suiting the desolation of the area, further aided by the sombre chime of item collection and other creepy sound effects.
This horrorfest from Pastel Games can be played online at Armor Games.

Next to Evil
Duet is sister to the queen of the Worldwide Monarchy, a family dynasty that rules through their ability to use magic. Whilst Duet wields an unusual power of her own, she worries for the damage her family does to the world. So when a mysterious veiled woman offers her the chance to betray her family, she must choose between loyalty and starting a revolution.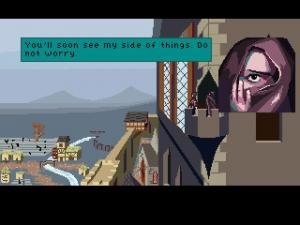 This game was made by Joel Page as part of the regular AGS competition to create a game within one month. The cartoonish graphics are somewhat on the simple side, but are generally effective, and there is a pleasant soundtrack with medieval overtones. Though not fully fleshed out in such a short game, there is sufficient detail from conversations and the musings of the player character to get a decent feel for the world. This is helped by a cameo from the protagonist of A Woman for All Seasons, Page's entry in the recent One Room, One Week competition. Duet's ability to split into two presents an unusual twist that affects a number of the fairly sparse puzzles.
Next to Evil can be downloaded from the AGS website.

Palacin
If you're an adventurer seeking a quest to make your name, the royal palace seems a good place to start. Such is the thinking of our protagonist as he arrives at the palace steps. Dubbed "Palacin" due to a misunderstanding over his desire to enter, his first problem is actually getting inside. From there, the direction of his quest may just depend on how adventurous he is.
Set over five chapters and boasting four different endings, this is an ambitious first game from Mythicto. Good use of shading with light-reflecting surfaces gives a fully three-dimensional look to both the locations and the characters. This impressive presentation is slightly let down by a stiff walking animation that does not fit well with the character's actual progress. The background music is pleasantly simple and unobtrusive. Whilst the method of getting into the palace is the same for all endings, some of the decisions you make after this determine which one you end up with. Conversations will usually point you in the right direction, though some hunting for inventory and lateral thinking is required to actually achieve your goals.
Palacin can be downloaded from Mythicto's website.

SW: The Mary Reed Chronicles
As a member of the Algorian resistance, Mary Reed is travelling to the rebel stronghold Camp Patterson. There she hopes to rendezvous with her childhood friend and the Algorian princess, Anna. When news reaches her that the camp has been destroyed and the princess captured, she sets out on a daring rescue mission. Aided by her war robot, Rusty, can she free the captives from the forces of Demo's evil empire?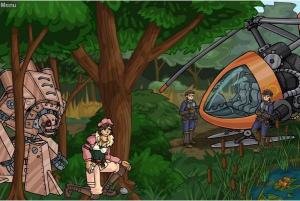 This is Hero Interactive's first foray into point-and-click adventure, set in the steampunk world of their Stormwinds shooting defence games. The graphics are a moderately simple cartoon style, with decent animation of both characters and machinery. In keeping with the combative nature of its forebears, a certain amount of violence is depicted throughout the game. The sound is mostly limited to appropriate effects, though there is a stirring anthem at the game's end. A couple of the puzzles require quick-clicking for success, though death simply restarts the current scene. More often you will be trying to avoid direct confrontation by distracting guards and engineering sneak approaches. There is a side quest to collect seven letters scattered throughout the game, and successfully achieving this is said to open up a "more violent and awesome" alternate ending.
SW: The Mary Reed Chronicles can be played online at Armor Games.

Gretel and Hansel 2
Sad Gretel and her jollier brother Hansel are lost in the woods. With a myriad of mundane and fairytale hazards all around them, their chances of ever seeing their home again look bleak. Can you find a path through these perils to the safety that lies beyond?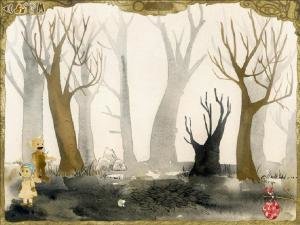 This is a streamed sequel to Gretel and Hansel, and the same look and feel of makopudding's earlier title carries over to this game. The graphics are hand-painted watercolour predominantly done in sepia and grey tones, with other colours limited to a handful of important items. Such a look serves as a reminder that this is undoubtedly a grim fairytale. This fact appears to be appreciated more by player character Gretel, whose dour expression is in stark contrast to Hansel's perpetual wide-mouthed grin. Animation is smooth and includes idle gestures that culminate in Gretel falling asleep if she is left alone long enough. The ambience is completed with a string-based soundtrack that conveys an unnerving tone. Control is handled through a combination of keyboard for movement and mouse for interaction. The game has no spoken or text dialogue, as conversations and thoughts are conveyed by animated illustrations in thought and speech bubbles. Violent and unpleasant deaths abound, but an automatic save system restarts you just before death and allows you to leave and return later.
Gretel and Hansel 2 can be played online at Newgrounds.

Reincarnation: All Hallow's Evil
Once again, the security measures in Hell have proved inadequate. A soul named Darcy has escaped through a reincarnation portal back into the human realm. Your job as a demon despatched by Luke, a.k.a. The Devil, is to bring him back. Catch him up to his old tricks and then bring about the demise of his new body in order to put him back where he belongs.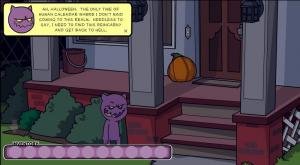 With four full games and five mini-games in two years, this browser-based series by B Group Productions is impressively lengthy. Links for all the previous Reincarnation games appear on the title screen, though each is self-contained. The cartoon graphics are crisp and clear with expressive characters. The animations are equally well done, especially the demon himself, who not only looks evil but manages to move evilly as well. This presentation is rounded off with a sinister soundtrack and impressive voicework for all characters, including Luke giving instructions at the start. Being a demon, a wave of your fingers is enough to supernaturally influence small objects, even at a distance. You will also sometimes need to use these eldritch powers to distract others so you can complete your work secretly. This is a black comedy and player discretion is advised, as the crimes of the soul and method of despatch are both somewhat unpleasant.
Reincarnation: All Hallow's Evil can be played online at the developer's website.

Gearlock: Episode 1
Tasked with transporting an important prisoner, the airship under your command comes under attack. While fending off your aerial attackers, you are struck by a missile that brings you down in a remote forest. With half of your crew dead and major damage to your systems, you need to improvise repairs to get aloft again. Preferably before whoever fired that missile comes looking for you.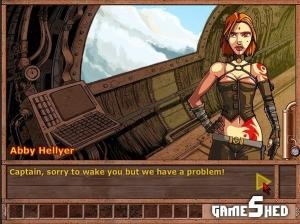 This is another game with a steampunk setting, this time from Hyptosis. The game is presented in a slideshow format and mostly set on your airship, full of pipes and tubes with the occasional electrical system sandwiched in between, all done in a light anime style. After a brief and very simple shooting game at the start, play continues on in a traditional point-and-click fashion. Two rousing tunes alternate to form the soundtrack, punctuated by occasional sound effects. As well as resetting various parts of the machinery on your ship, you'll have to search for parts to fix broken systems.
Gearlock: Episode 1 can be played online at Newgrounds.

Lightning Master
An ordinary man is settling down to watch his favourite 1960s TV show, The Prisoner. When the power cuts out and his car goes missing, he walks into town, only to find a strange situation. The whole town is empty, and all cars and people have vanished without a trace, a situation that mirrors the plot of the episode he was watching. He soon discovers a machine that can apparently transport him through time, and a notebook that rewrites itself when he does so. He has been chosen to put right what has gone wrong. Can he unravel the mystery and put the world back as it should be?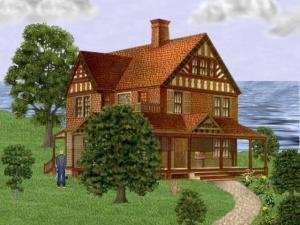 This is the first game from Creative Loops and is a hefty 152MB download. Clearly a lot of this has gone into the graphics, which are detailed photo composites with a handful of hand-drawn elements. The composites are neatly done, with no obviously jarring edges where elements meet. Apart from the television theme song played at the start, sound is limited to effects only, with no other musical score. This does emphasise the emptiness of the town, but I missed having any noise at all after a while. Initially you will wander around aimlessly, but discovering the notebook and time machine will start giving you clues to direct your investigation.
Lightning Master can be downloaded from the AGS website.
 
---

Other new releases
Not all games are created equal, and freeware games especially come in all shapes and sizes. Not to be overlooked, the following list might also be of interest, though these games may be significantly shorter or less polished, more experimental titles than those detailed above, some perhaps only borderline adventures to begin with.
One Room by Wyz – Have a surreal experience in this updated version of a literal-minded "One Room, One Week" entry.
Hello Neighbour! by Sayhello-hello – Bring friendship, love and lasting animosity to a group of six apartment-dwellers.
Oceanspirit Dennis: The Naked and the Ninja by Poncho – When Oceanspirit Dennis is kidnapped, it's up to Life Partner Ray to save the day in this adult comedy.
The Outbreak by SilkTricky - Expect to die a lot in this choose-your-path live-action zombie film.
Underworld Army: Episode 1 by prasannakkcse - Infiltrate Professor Pain's secret underground laboratory and disable his robotic army.
 
---
That's it for this month. Think we've missed a gem or want to tell us about your own game? Then pop in to our Adventure forum and tell us about it!