The Christmas Quest trilogy returns!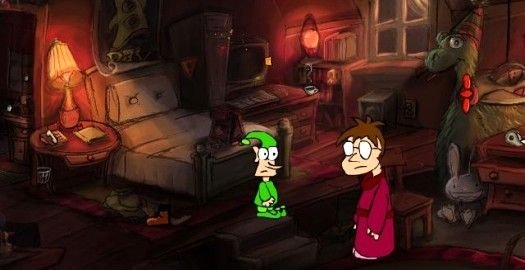 Christmas is nearly upon us, adventure gamers, and that can only mean one thing! Well, it means lots of things: festive decorations and colourfully-wrapped packages… seasonal specials and favourite carols (don't forget to sing 'em adventure-style!)… Santa Claus joy and even Scrooge-like humbuggery… for some religious devotion and others memorable family gatherings… But let's face it – those are all just appetizers to the main course. And I don't mean double helpings of turkey. I'm talking about the return of the Christmas Quest trilogy!!!
For those new to the series, these three games were created by none other than your friendly Adventure Gamers staff (with a few invaluable guest contributions) a few years ago. An ongoing tale of a young dork's pursuit of the best adventure game ever(!), delivered to him by Santa, each game offers a few outrageous obstacles and a load of even more outrageous gags. To download, simply click the images below and your personal quest will begin right away.
Bounding down the stairs one early Christmas morning, our hero is all set to tear into his greatest wish of all, now neatly wrapped under the tree. But something's amiss. In fact, many things are! Must be an adventure, all right. The tree is bent over, the power knocked out, and all must be set right in order for the grand unveiling of the one, the only, best adventure game ever.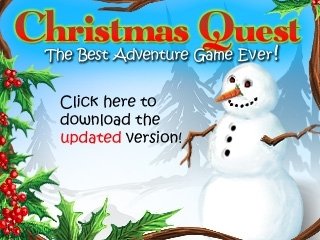 The sequel begins with a bang – literally! Our protagonist's moment of triumph is cut short by a burst pipe that now threatens to flood the house. Stranger still, one of Santa's elves was left behind. Part help, part hindrance, fully disgusted at his plight, the pointy-eared one must now pitch in to stop the water and prevent the destruction of the best adventure game ever. What happens? You'll need to play through the sizzling conclusion to find out!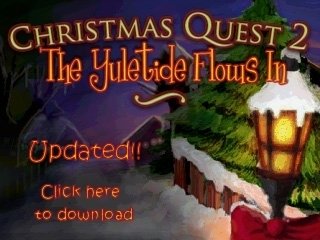 With game back in hand, now the ancient (what else?) computer is on the fritz! Tech support is as helpful as you'd expect, so it's up to the little elf to transport himself inside the PC to work out the problem. But elf magic is a mysterious thing, and it's a world of decidedly low-tech imagination that awaits him. Can he piece it all together in time before jolly ol' St. Nick returns to take him home? Will we EVER find out what's the best adventure game ever? That all depends on you.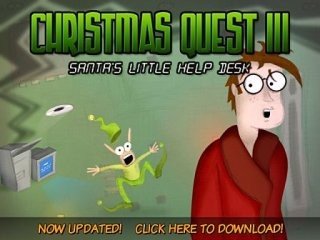 If this is your first experience of Christmas Quest, we have just two words for you: try everything! Well, those and "have fun", but we think that'll happen on its own. It's all point-and-click goodness, no penalty for failure (permanent ones, anyway), and if you need a boost of holiday cheer, look no further. If you don't find it here, it's quite possible that you're the Grinch (pre-epiphany). For those who have been down this road with us before, there's no need to stop at once. That's what holiday traditions are all about! And we guarantee there's more laughs left to discover that you missed the first time around.
If you should happen to notice a few small "oddities" along the way, rest assured that you are, in fact, hallucinating. Or, possibly, we had to make some concessions under a rather unforgiving deadline. Bear in mind that each game was created, start to finish, in about six weeks, usually initiated about the fourth time someone said "Uh… isn't it about time we made the game?" But don't think of them as "flaws", think of it as "character".
Whether new or old, returning players or first-timers, where Christmas Quest is concerned, it's come one, come all. The more the merrier, and hey, it's free! It's our ongoing gift to you, and we hope it adds something to your holiday season. Enjoy!
Referenced Adventure Games
feature
Other articles you might enjoy