A day in studio with Jane Jensen and Gray Matter (Part 1)
Opinion & Special Features
Musings on the adventure genre, developer columns and other special features
As one of the many people eagerly anticipating the release of Gray Matter, the chance to spend some time recently in the recording studio with design legend Jane Jensen, Lorelei King (voice director) and Phillipa Alexander (voice of Samantha Everett) was an exciting prospect. The opportunity not only offered the chance to learn more about the game, but also to see what goes on behind the scenes, witnessing some of the dialogue for the game being recorded first-hand.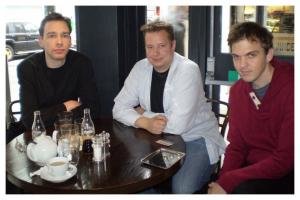 Ingmar, Claas, Mark getting caffeinated
The day started at 11am, in a coffee shop near the recording studio where I met with Claas Wolter, the PR Manager from dtp (publisher for Gray Matter) and Ingmar Boeke, a colleague from our fellow adventure site Adventure-Treff. We got to know each other as we woke up a little bit (Claas and Ingmar had flown over from Germany; I had slept on the train up to London). After a bit of discussion about our favourite adventure games, Claas got out his laptop, we cleared the table and got down to business. Part of what I saw was a presentation that will be shown again at a large press conference in a few weeks, which will include some previously unannounced details (my lips are sealed on those bits until then). But I did get plenty of information I can talk about freely, as well as see some new screenshots and some behind-the-scenes video of the motion capture used for the game.
The demonstration started with a recap, basically what is known already. Gray Matter is about young Samantha Everett, an American street magician travelling across Europe. Needing a place to spend the night, she stops at the house of Dr David Styles, who she learns is looking for an assistant. Styles is a neurobiologist conducting experiments on physical actions that can be achieved just by using the human mind, but Sam doesn't know this and soon becomes involved by recruiting students for him to conduct tests on. The doctor's experiments are tame at first but soon become more outlandish, and strange things start happening around Oxford. Dr Styles starts having visions of his wife, who tragically died in his troubled past, and it is soon revealed that each of his recruited subjects has a unique psychological characteristic of their own.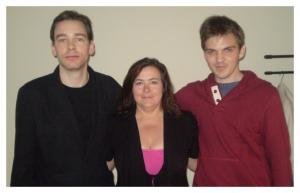 The incomparable Jane Jensen joins the party
At the start of each level, Sam will have a series of challenges she has to complete, which can be done in any order before the section is finished. One of the early challenges will be Sam trying to recruit the five students for Style's experiments, but the game won't just focus on her, as Styles is also a playable character. The storytelling looks to be classic Jane Jensen, mixing facts with sci-fi in a dark and original way. Better yet, at the risk of looking too far ahead, if all goes well, Gray Matter will be just the first in a new series by Jensen, though no further details were disclosed as to what any sequels might include
Next we were shown a series of screenshots in nearly finished form, giving a clear picture of what the game will look like, and all I have to say is "wow". The new screens look amazing, and there were lots of them to see. Claas also demonstrated the difference between the original screenshots from the previous development team, Tonuzaba, and the new studio, Wizarbox. The difference is stunning, as not only are the graphics (especially the character depictions), much more lifelike with more atmospheric lighting, they also have a much more genuine English feel to them. As Claas put it, "the furniture doesn't look like it's from eastern European communist countries anymore." And it's definitely true. There were screens of Styles' Oxford house, a local street and the gates of the university. There was also one very impressive panoramic shot of a large wood-panelled hall which was breathtaking. I'm finely attuned to games trying to depict a British location but getting it wrong, as they often do, but this game feels right, not simply sticking in a red phone box and saying "oh look, it's British now." We even got a peek at one of the puzzles, which involved digging for something in a flowerbed, but of course the slideshow presentation stopped before the soil-covered object was revealed.
Unfortunately, we didn't get a chance to see anything playable, though we were informed that the logic foundation of the game is done, but some objects and of course the voice track (the reason we were all there in the first place) are still missing. Instead, Claas showed us some footage of an actor in a motion capture suit, reaching for things and performing other gestures that were indiscernible on their own, but provide an interesting glimpse into the attention to detail being given to even the finer character animations.
After the presentation was over, the recording studio was a short walk from the coffee shop. Heavy Entertainment has a reputation for being one of most successful recording studios for audio books in the UK, and as viewers of daytime television in Britain might appreciate, it was a weird moment when we passed Alan Titchmarsh (a well known TV presenter, for you outsiders) as we arrived. Once there, a security guard buzzed us in and we were shown into a room with some comfortable sofas and a small kitchen, and were introduced to Jane Jensen. As an admirer of her work it was a great moment for me, and far from being intimidating, she was very welcoming and friendly, and immediately put us at ease. After being introduced, we sat down and exchanged small talk, and posed for some pictures. There were so many questions we wanted to ask, but we had to wait a while longer, as they were ready to let us into the studio.
This was the first time I'd seen dialogue for a game being recorded, and I was seated next to Jane, watching Lorelei King direct Phillipa Alexander, who was reading Sam's lines. We don't know too much about Sam's personality just yet, but it was clear that Phillipa is ideal for the role, portraying a character that's both entirely believable and very likeable. Voice acting can make or break a character, and if this day is any indication, I think Sam is going to be a much-loved adventure gaming heroine. If so, it'll be a well-earned accolade. Each line of dialogue was recorded several times until the right feel was captured, and then on to the next. Every time Phillipa read a line, Lorelei would give feedback, asking her to do it differently or say it was okay. All the lines were read from a huge binder holding the game's 5,000 lines of dialogue.
Video interview: Phillipa Alexander, voice of Samantha Everett
The dialogue being recorded was for one of the game's puzzles, though it was hard to tell what it's about, offering only one side of a conversation or other clues without much context there in the studio. We were told that one piece of the dialogue was from a conversation with Styles, and Phillipa read it several different ways: sarcastically, light-heartedly and finally distrustfully. It'll be interesting to see which is chosen when decision time comes. After Phillipa was finished, we had a short time to interview her (the first of three interviews which we were privileged to film), in which we learned a bit more about her (for shampoo fans out there, she's the voice of the L'oreal adverts as well) and her involvement in the game.
Following that interview it was time for lunch with Jane Jensen and Lorelei King in a restaurant just across the road from the studio. Over lunch, Jane talked about her influences, past games and of course Gray Matter. Claas and Ingmar got a chance to try some British food (I was the only local at the table; Jane and Lorelei are both American). We talked about other things as well, and it was a surprise to me that Lorelei knew the area where I lived (it's always a surprise when anyone knows Devon, considering it took Claas and Ingmar less time to get from Germany to London than it did for me to get there). Jane's stated influences, not surprisingly, related to the paranormal, with Carrie by Stephen King coming up, as well as Buffy the Vampire Slayer and Lost.
Video interview: Lorelei King, Voice Director
When lunch was finished, it was back to the studio to interview Jane Jensen and Lorelei King. What transpired in the interviews you'll see for yourselves in the videos, but with over half an hour work with, we managed to fit a lot in, covering not only the new game, but also Jane's views on adventure gaming in general. And, of course, we couldn't let the day go by without at least one question about Gabriel Knight.
Overall, it was a great afternoon. Just meeting Jane herself would have been a highlight in its own right, but spending some time in the studio and talking to the others added all the more to the day. Everyone was so friendly and gave us much more access than I'd imagined, leaving me even more eager to see the finished product. I'm sure many people reading wish they had the chance to share in the experience personally, but at the very least we are pleased to share the video evidence of this most memorable day.
---
Update: The second half of this feature is a three-part video interview with Jane Jensen, now posted here. Enjoy!
Referenced Adventure Games
feature
Other articles you might enjoy