Destination: Treasure Island hands-on
archived preview
How long has it been since you last heard "yarr!" and "shiver my timbers" as part of the everyday adventure gamer's vocabulary? Probably far too long. Well, the wait may be over, with several piratey adventures (such as Jack Keane and Dead Reefs) on the horizon. The first to be released will be Kheops Studio's Destination: Treasure Island, and as part of my recent visit to their office, I got to play the beginning of the game.
The game is a sequel to Robert Louis Stevenson's Treasure Island, and starts a few years after young Jim Hawkins returned to England from a trip to an island in the Caribbean, where, after many adventures involving the charming-but-dangerous pirate Long John Silver, he had found a buried treasure. Contrary to what you may naturally believe, Destination: Treasure Island doesn't actually take place on Treasure Island, but rather on a similar place called Emerald Island, where Long John Silver is supposed to have buried a treasure of his own. As the game begins, Jim is sailing in the West Indies, when Captain Flint, John Silver's parrot, appears with a message from the old pirate. In the message, a dying (or so he says) Silver urges Jim to go to Emerald Island and follow a long set of clues to a treasure he has hidden there.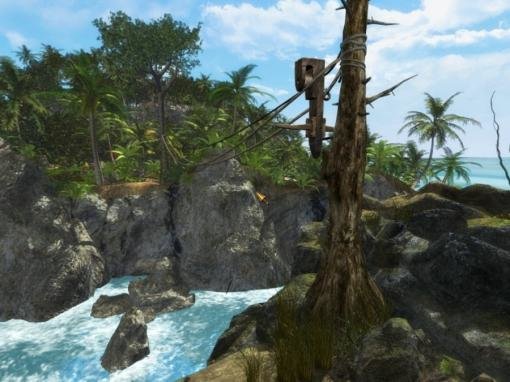 And so, after this short prologue, I set to exploring the island and look for the treasure, under the scrutiny of Kheops CEO Benoît Hozjan and other members of game's team. The lead designer, Alexis Lang, keenly watched everything and took notes -- and kept sinking in his chair as time went on, depressed at my inability to pay attention to the item descriptions and tendency to regularly get stuck as a consequence. What I saw of Emerald Island mostly looked like a place for a dream holiday, with long, sunny beaches, crystal-clear water and some native art. But it seems there might be more disturbing things lurking under the glitzy surface, and some odd animal noises and unexpected events may lead one to expect a darker side to the island. As a matter of fact, the developers admit that Lost was among their inspirational sources for the atmosphere of Emerald Island.
Those who've played some of Kheops Studio's previous games will immediately feel right at home with Destination: Treasure Island, which uses the same interface and node-based perspective. As usual, the puzzles are essentially a mix of inventory (the large, tabbed inventory returns, along with the ability to make complex item combinations) and logic puzzles. Still, a thing I like about Kheops games is their ability to always add a little something new, and Destination: Treasure Island is no exception. This time, improvements include animated character portraits, direct manipulation of certain objects (similar to how you had to drag the mouse to turn pages and pull levers in Myst IV: Revelation), and a map to move directly between visited locations.
But what I was especially anxious to see were the knot puzzles. You see, I'm completely hopeless with knots; for me, wearing a tie means having to get up half an hour earlier in the morning. But I was wrong to be afraid of those puzzles: they're fun. At various instances, you need to make a certain type of knot; the operation involves choosing between two possibilities for each of the steps it takes to tie the knot. This requires no external knowledge, just some observation and a bit of common sense, and constitutes a short and easy puzzle that feels like a fun distraction from the other challenges. The game also allows you to see the steps again once you've completed a knot. Benoît was quick to point this out as he thrust into my hands some string that conveniently happened to be lying on the desk. Well, the instructions must be good, since I managed to tie my real-life knot on the first attempt, and the unexpected satisfaction prompted me to suggest that some pieces of string be bundled with the game. That's obviously exactly what I was expected to say, and a gleeful Benoît turned to the Nobilis representative there with victory in his eyes; she, unfortunately, remained adamant that this would not happen. So I guess you'll have to provide the string yourself. You ought to, it adds a little something to the playing experience.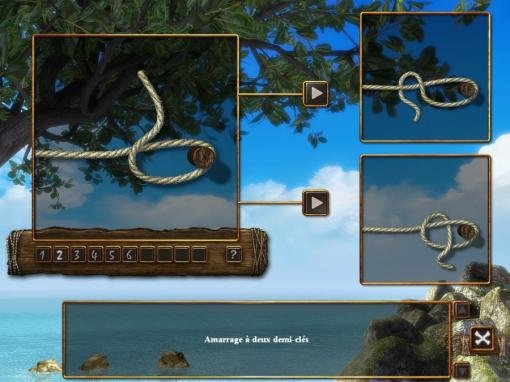 An important part of the game is solving Silver's riddle to reach his treasure (supposing there is one -- I personally wouldn't trust him, but the development team refused to comment on my suspicions). This draws from both Treasure Island and another famous treasure hunt, Edgar Allan Poe's The Gold-Bug. Those who enjoyed "Le serpent rouge" in Gabriel Knight 3 might have reason to be happy, as the treasure hunt plays in a very similar fashion, with a long series of cryptic instructions to understand and follow to make progress. On this quest, Captain Flint the Wonder Parrot often serves as an all-purpose security system, flying from one important location to the next and helping you gain access to various items when you perform Silver's instructions. At the end of the part I played, I had almost reached the solution to the riddle I had received at the beginning of the game, but a good five seconds of insistent journalistic questioning on my part left Kheops no choice but to reveal that there'd be more later in the game. Still, they emphasized that Destination: Treasure Island is not only about the treasure hunt, and that the developments of the plot make way for different challenges.
Apart from a couple of blemishes (I still haven't got over their giving Long John Silver a peg leg and cane instead of his unforgettable crutch), I really had a blast playing the early part of Destination: Treasure Island. I didn't see enough to know for sure whether you should start singing yo-ho-hos and spending your recently-dug pieces of eight on it. But the developers seemed very happy with it, and mentioned they felt they had managed to recapture that freshness that had made Return to Mysterious special -- "but with more depth this time."
The usual Kheops goodness? And freshness? And depth too? I think I'll just forget about caution and start yo-ho-hing around.
Referenced Adventure Games
archived preview
Other articles you might enjoy