He's short, he's ugly, he's nerdy and alone, but Al Emmo has come looking for love in just the right place. That's right, here at Adventure Gamers!
Courtesy of Himalaya Studios, we are pleased to host the online premiere of the demo for Al Emmo and the Lost Dutchman's Mine. We know Al will prove too popular to hog all to ourselves, so we won't keep him for long before he's unleashed on the world. But for 48 hours, it's an exclusive engagement at AG with the lovable loser.
Al Emmo, of course, is the highly-anticipated upcoming comic adventure that will remind everyone of the glory days of Sierra (without all the annoying parts, for those Sierra naysayers out there). The first original title by Himalaya, a new studio formed by the developers responsible for the acclaimed King's Quest 1 and 2 remakes, Al Emmo is a classic third-person, point and click adventure that follows the exploits of the 40-ish year old titular... um... hero (if one uses the word REALLY loosely) after becoming stranded in the desert town of Anozira. While competing with a Spanish prince for the heart of a lovely singer named Rita, soon Al is drawn deeper into the mystery of Rita's murdered father and the legend of hidden Aztec treasure, and the hunt for the Lost Dutchman's Mine is on.
To begin your download, simply click here.
While you're waiting for your download to finish, why not check out our recent hands-on preview or pop over to the game's official website. The website may not yet be finished, but we're told its launch is imminent, so check back shortly. Of course, you can always just sit back and soak in the artistic detail in the new screenshots below (click for larger versions).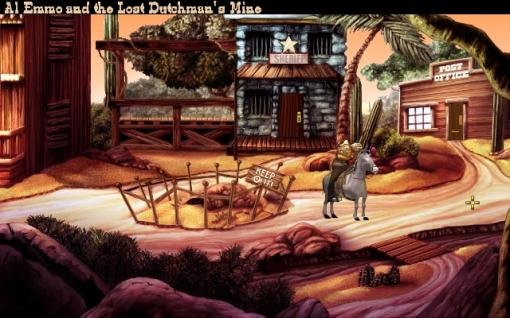 Al Emmo and the Lost Dutchman's Mine will be available for purchase from Himalaya Studios. If you like what you see in the demo, mosey on over to the Himalaya store and be among the first to pre-order the game. The first 100 pre-orders will get a limited edition collector's card, an authentic Anozira postcard, and the chance to win signed game artwork and copies of the game for friends.
Enjoy the demo!
Referenced Adventure Games
feature
Other articles you might enjoy