Upcoming Adventure Game Releases
Showing
upcoming adventure game releases
ordered by
date
and in
any territory
. If you're looking for
recently released
games, check out the
recently released adventure games
page.
Want to discover (new) adventure games you didn't know existed? Be sure to try our
discover feature
, or browse through our
games database
!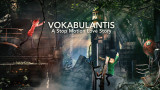 Karla and Kurt are stuck at the intersection trying to hold hands for the first time. Now nervously realizing what they are about to do. When they want to speak to remedy the awkwardness, their mouths come off and they are catapulted into Vokabulantis. Lost in the world of language,...
» Full game details
The House of Light is the fifth chapter of a five part series of story-driven indie games named Nocturnal Visitors. They narrate the events that both precede and follow the arrival of Jamie, a sixteen year old boy who one night is transported to Aliorbis, a mysterious alternative version of...
» Full game details