Upcoming Adventure Game Releases
Showing
upcoming adventure game releases
ordered by
date
and in
any territory
. If you're looking for
recently released
games, check out the
recently released adventure games
page.
Want to discover (new) adventure games you didn't knew existed? Be sure to try our
discover feature
, or browse through our
games database
!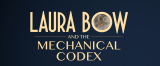 After a mysterious package arrives at the offices of The New York Daily News Tribune, an unlikely chain of events sends Laura Bow off on the biggest story that the little newspaper has ever seen. A long journey, an elaborate event, a life changing invention, and many dangerous motives for...
» Full game details
Welcome to a beautiful planet where humans, animals, and machines live side by side, in an upside-down food chain. Planet of Lana is a cinematic puzzle-adventure where you play a young child, determined to out-think an entire planet. Beside the obvious terrors of cold hearted machines and giant monsters, the...
» Full game details