Latest Adventure Games News
January 2014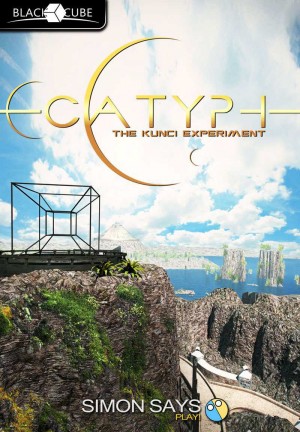 Following up on the 2013 release of ASA: A Space Adventure, indie developer Simon Mesnard is working on a follow-up called Catyph: The Kunci Experiment.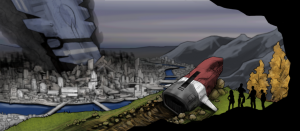 Berlin-based indie developer Sebastian Till is looking to leave his mark on old-school point-and-click adventures with his crowdfunding campaign for the upcoming Humanity's Silence. Billed as a "minimalistic" adventure, the game tells the story of the crew of a spaceship which has just crash-landed on an unfamiliar planet. By interacting with the crew members and making choices guided by dialogue, it is up to the player to survive in the alien environment and discover what led to the crash. Inspired by fellow minimalist adventure Gods Will Be Watching, Humanity's Silence features a single scrolling screen comprising the sole location in which the entire narrative plays out. A playable demo available through the game's Indiegogo page offers a glimpse at how dialogue works within the context of gameplay; clicking a crew member on-screen brings up a large character cut-out, along with any dialog choices currently available for that character.
If there's one thing Carol Reed fans have come to expect, it's Swedish developer MDNA Games' clockwork release schedule. In keeping with this tradition, the next installment in the prolific point-and-click adventure series, Bosch's Damnation, is on track to appear this March.
Some preliminary news has emerged about an upcoming point-and-click thriller called A Poison Green, as the newly-christened Faraway Industries has released a few details concerning the story and gameplay we can expect once the game is completed. The year is 2070, and the conditions of Earth's air have deteriorated to the point that protective gas masks are a must to keep from inhaling hazardous environmental diseases. In the face of an ineffective government, ordinary citizens must resort to extraordinary measures, even violence, to make a difference in the world. In Washington D.C., three people's paths are about to cross in this story of espionage and eco-terrorism. Alternately controlling William, an investigative journalist, Mia, an unemployed and impressionable woman, and Elijah, an idealistic history professor, players will control both the hunter and the hunted. As a terrorist attack looms close, some characters will join in the anti-government movement while others will actively try to uncover their plans and warn authorities. Switching control from one character to another at pre-set points during the narrative, players will have to help one side evade capture while helping the other to foil their plans. A sample from A Poison Green's soundtrack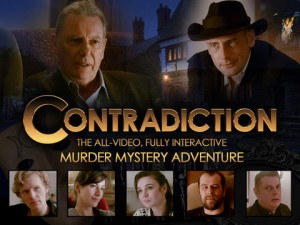 Live-action "interactive movies" have a spotty history in the minds of many gamers, with frequently-hammy acting and a lack of actual gameplay being a few of the more common complaints. True to its name, Contradiction, a recently announced point-and-click adventure currently looking for funding on Kickstarter, hopes to change all that, incorporating mystery-solving gameplay with a full motion video presentation.
Ferris Bueller may have desperately wanted a day off almost 30 years ago, but iOS and Android owners may also soon find themselves looking for one to play the parody Ferris Mueller's Day Off when it releases later this month.