Dentures and Demons Series
A full overview of all adventure games released in the Dentures and Demons Series. These can be episodes, remakes/remasters or sequels, created by either one or several companies. As long as the IP is used, we'd quantify this as part of a 'series'.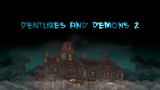 The nefarious Dentures sect was finally defeated, Detective Junior Peexelated was promoted to sergeant, and everyone in the mountain town of Varedze was safe. This would make a good ending for a story, right? Unfortunately, it is only the beginning. Something terrible is happening again, and it will...
» Full game details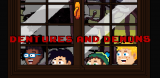 Weird things happen in Varedze. This is clear to everyone who has grown up around here. Follow Detective Junior Peexelated as he investigates the case of a dangerous sect. Will you stop the wave of murders, or will you become the next victim of this city?
» Full game details