A full overview of all adventure games released in the Blair Witch Series. These can be episodes, remakes/remasters or sequels, created by either one or several companies. As long as the IP is used, we'd quantify this as part of a 'series'.


Discover the true fear that lies in the Black Hills Forest in Blair Witch: Oculus Quest Edition, a new version of the Blair Witch story built specifically for VR. It is a story-driven, psychological horror game where users experience first-hand the toll that fear can take on the mind through an orig...
» Full game details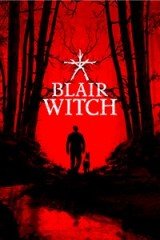 PC, PlayStation 4, Xbox One
It's 1996. A young boy disappears in the Black Hills Forest near Burkittsville, Maryland. As Ellis, a former police officer with a troubled past, you join the search. What starts as an ordinary investigation soon turns into an endless nightmare as you confront your fears and the Blair Witch, a...
» Full game details