Nocturnal Visitors Series
A full overview of all adventure games released in the Nocturnal Visitors Series. These can be episodes, remakes/remasters or sequels, created by either one or several companies. As long as the IP is used, we'd quantify this as part of a 'series'.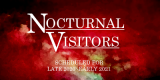 Nocturnal Visitors is the first chapter of a five part series of story-driven indie games by the same name. They narrate the events that both precede and follow the arrival of Jamie, a sixteen year old boy who one night is transported to Aliorbis, a mysterious alternative version of Earth where magi...
» Full game details