Nelson and the Magic Cauldron Series
A full overview of all adventure games released in the Nelson and the Magic Cauldron Series. These can be episodes, remakes/remasters or sequels, created by either one or several companies. As long as the IP is used, we'd quantify this as part of a 'series'.


Android, iPad, iPhone, Mac, PC
In the sequel, Nelson has to get to a magical competition faster than his opponent. For this, he and his friends travel by airship where everything goes wrong.
» Full game details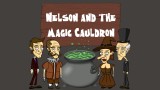 iPad, iPhone, Linux, Mac, PC
A young man named Nelson inherits a cabin from his deceased uncle Sid, not knowing that he was a necromancer during his lifetime. Now Nelson finds himself confronted by numerous puzzles and crazy characters, including the ghostly Sid, a stone cold undertaker, a confused baron, soup-cooking witches, ...
» Full game details