A full overview of all adventure games released in the Chook & Sosig Series. These can be episodes, remakes/remasters or sequels, created by either one or several companies. As long as the IP is used, we'd quantify this as part of a 'series'.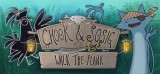 It's game night, and everyone's favorite spaghetti-limbed cat is sitting down with their friends for an evening of pirates, treasure, and most certainly annoying dungeon master Exley. Sosig has never played tabletop before but that's not going to stop them from having a good time. ...
» Full game details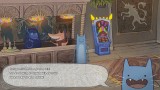 Sosig wants the role of goblin in the local role-playing club. If he is to win his coveted place, he needs to perform a group of task to impress the others.
» Full game details