Chronicle of Innsmouth Series
A full overview of all adventure games released in the Chronicle of Innsmouth Series. These can be episodes, remakes/remasters or sequels, created by either one or several companies. As long as the IP is used, we'd quantify this as part of a 'series'.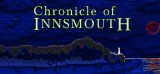 Upon first hearing of Innsmouth, a naive young man decides to investigate the despised coastal town beset by strange stories of journeys to exotic lands and of weird religious rites, where years earlier a private investigator was sent to look into a mysterious disappearance. These two stories are in...
» Full game details