A full overview of all adventure games released in the Apocalipsis Series. These can be episodes, remakes/remasters or sequels, created by either one or several companies. As long as the IP is used, we'd quantify this as part of a 'series'.


Harry didn't believe his beloved was guilty of witchcraft, although whenever she disappeared into the woods he was being haunted by unsettling dreams… Learn the truth about Zula and discover the secret of the woods. With demons lurking in the dark of the forest, it will be a nigh...
» Full game details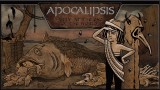 The loss of Harry's beloved was the end of his world. Now he has to venture out into the strange, unwelcoming lands to get her back. On his journey he will meet fantastical creatures, straight from the minds of artists from the 15th century Europe, and ultimately conquer his own personal d...
» Full game details