Darkside Detective Series
A full overview of all adventure games released in the Darkside Detective Series. These can be episodes, remakes/remasters or sequels, created by either one or several companies. As long as the IP is used, we'd quantify this as part of a 'series'.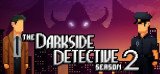 Linux, Mac, PC, PlayStation 4, PlayStation 5, Stadia, Switch, Xbox One, Xbox Series X, Xbox Series S
You may have thought the spooky goings on in Twin Lakes ended with the final case in Season 1, but things are about to get a whole lot weirder with a new anthology of paranormal investigations to fumble your way through.
» Full game details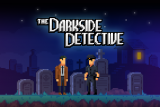 Where cultists crawl, where demons dwell, where the occult… occults(?) you'll find Detective Francis McQueen, the sole member of the criminally underfunded Darkside Division. When evil darkens the doorsteps of Twin Lakes City – hell, even when it just loiters around shop fronts or...
» Full game details