A full overview of all adventure games released in the Sol705 Series. These can be episodes, remakes/remasters or sequels, created by either one or several companies. As long as the IP is used, we'd quantify this as part of a 'series'.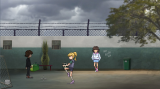 In a rural Argentinian town, the school winter holiday's are just about to start. One young student is just looking to enjoy some time off, and forget about how bad his grades are. But with people around town starting to behave oddly, he soon finds himself joining Sol705, a student club de...
» Full game details
Over the course of a young man's winter break in a remote town called Tucana Lake, Argentina, join a group of eccentric friends looking to sneak out of their duties and spend all their free time at their own secret extraterrestrial research club: Sol705. Making contact with an alien race? Easy...
» Full game details