Sniper and Spotter Series
A full overview of all adventure games released in the Sniper and Spotter Series. These can be episodes, remakes/remasters or sequels, created by either one or several companies. As long as the IP is used, we'd quantify this as part of a 'series'.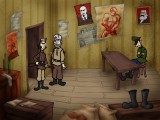 A small village is about to fall to the Germans. Whilst he cannot keep them out, the local battalion commander seeks to deny them the spoils of war. He sends in the two man team of sniper and spotter to damage or destroy the resources of the village.
» Full game details
Reluctant soldier Ivan is paired up with gung-ho sniper Olga for a dangerous mission. They must infiltrate a town under heavy attack and bring down the enemy commander.
» Full game details