A full overview of all adventure games released in the Zombie Society Series. These can be episodes, remakes/remasters or sequels, created by either one or several companies. As long as the IP is used, we'd quantify this as part of a 'series'.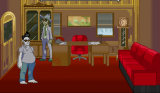 Relaxing in their office, zombie detective Margh and his assistant Ghvnn soon find their peace interrupted. A local gunshop owner keeps finding graffiti on his wall, which mysteriously reappears whenever he cleans it away.
» Full game details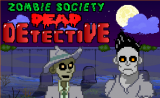 Zombies have conquered the planet. They've even established their own society… Which, all in all, is just as dumb and nonsensical as ours. Crime, too, is as rampant as ever, but worry not: private detective Margh and his partner, Ghvnn, are on the case. And what a collection of w...
» Full game details
Developed by Muja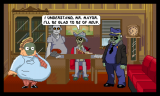 Master criminal, Nine Deaths Cat, had been apprehended stealing from the mayor's office and was headed to prison. But the wily felon has managed to escape the clutches of the police again. It is up to zombie detective Margh and his assistant Ghvnn to track down the thief.
» Full game details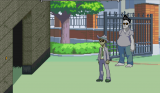 Zombie detective Margh and his sidekick Ghvnn are on a new case. Someone has kidnapped a brain from Lurr brain farm. But this brain has been declared unfit for zombie consumption. Who would steal a brain like that?
» Full game details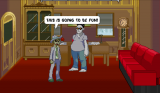 Undead detective Margh and his faithful assistant Ghvnn are on the trail. Can they catch the legendary thief Nine Deaths Cat?
» Full game details