The Mystery of Haunted Hollow Series
A full overview of all adventure games released in the The Mystery of Haunted Hollow Series. These can be episodes, remakes/remasters or sequels, created by either one or several companies. As long as the IP is used, we'd quantify this as part of a 'series'.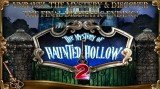 Android, iPad, iPhone, Mac
You arrive in the village of Nightfall, tired and weary and drenched in rain, with thunder and lightning in distance making you feel more cautious as you trek down the long path. But after your discoveries in the town of Hollow, you are determined to solve any new challenges that lie before you and ...
» Full game details
You arrive at the town Hollow, alone. Armed with only an empty suitcase and faint memories, you are determined to remember the details of the life you once lived here. At the entrance a familiar apparition appears, warning you away. But haunted by visions of your past, and suffering from amnesia for...
» Full game details