A full overview of all adventure games released in the The Uncertain Series. These can be episodes, remakes/remasters or sequels, created by either one or several companies. As long as the IP is used, we'd quantify this as part of a 'series'.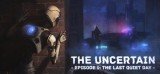 The Uncertain is an episodic story-driven adventure game set in a post-apocalyptic world now run by harmonious, logical artificial life forms. In the first episode you play an engineering robot RT-217NP, who is very curious about the human race that has long since destroyed itself in war. In seeking...
» Full game details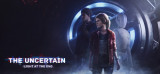 Mac, PC, PlayStation 4, Switch, Xbox One
The Uncertain: Light at the End is a new title set in the world established by 2016's The Uncertain: Last Quiet Day – a lonely and abandoned Earth where humans have "disappeared" and machines rule the world. As Emily, one of Earth's only free humans, players...
» Full game details