A full overview of all adventure games released in the Crazy Dad Series. These can be episodes, remakes/remasters or sequels, created by either one or several companies. As long as the IP is used, we'd quantify this as part of a 'series'.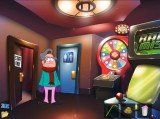 Crazy Dad just wanted a quiet afternoon enjoying a film at the cinema. When the rest of the audience drowns out the action, he must concoct another mad scheme to silence them.
» Full game details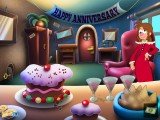 Make no mistake, fifteen years is a lot of time to be married, and Crazy Mom wants the party to pop! But to make this shindig memorable, she needs your help to gather a few things in this short and silly point-and-click adventure from Carmel Games.
» Full game details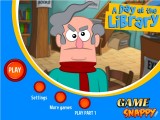 Seeking a calm place to be, Crazy Dad takes a job at the library. Unfortunately, with noisy teens using the free Wifi, it is not the haven he seeks. He must rid himself of these pestilent youths.
» Full game details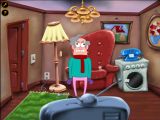 Crazy Dad's two children have been constantly pestering him for sweets. Now driving him nuts with their constant sugar high, he determines to close down the sweet shop. Prompted by the local tabloid editor, he sets out to create an alien monster costume to execute the plan.
» Full game details