A full overview of all adventure games released in the Why Am I Dead? Series. These can be episodes, remakes/remasters or sequels, created by either one or several companies. As long as the IP is used, we'd quantify this as part of a 'series'.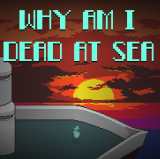 You are on a boat at sea. Also, and more importantly, you are dead. To figure out why, you will need to inhabit the other residents of the ship and use them to investigate what led to your untimely demise. Each combination of characters leads to a unique conversation based on the relationship those ...
» Full game details
The hotel manager is dead, brutally slain in his own office. Unable to rest without discovering the reason for his fate, the spirit of the manager sets out to possess the other inhabitants of the hotel in a quest to discover the truth.
» Full game details