Jacob Jones and the Bigfoot Mystery Series
A full overview of all adventure games released in the Jacob Jones and the Bigfoot Mystery Series. These can be episodes, remakes/remasters or sequels, created by either one or several companies. As long as the IP is used, we'd quantify this as part of a 'series'.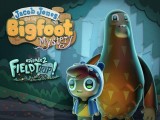 Following the events of Episode 1, Jacob and Biggie set off to the spooky Crackskull Mountain to try to uncover the secret of Biggies childhood. Join the new best buddies on a brand new adventure and unravel more of the mystery in a series of brain twisting puzzles and crazy collectibles. More crazy...
» Full game details
Something strange is going on at Camp Eagle Feather. Campfire stories tell of strange creatures in the woods, and why are the camp counsellors fattening up all of the kids? Only Jacob Jones and his huge hairy sidekick Biggie can solve the murky mystery.
» Full game details