A full overview of all adventure games released in the Kaptain Brawe Series. These can be episodes, remakes/remasters or sequels, created by either one or several companies. As long as the IP is used, we'd quantify this as part of a 'series'.


Android, iPad, iPhone/iPod Touch, Mac, PC, Linux
Ursula Unsula, queen of the tiniest planet in the known universe, has grand plans take over the second tiniest planet. Meanwhile, the only man who has the remotest chance of stopping her is dead, so it falls to Kaptain Brawe to save the day. Unfortunately, Brawe currently finds himself stranded on a...
» Full game details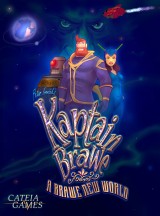 Android, iPad, iPhone/iPod Touch, PC
Step into the world of interstellar travel, where Space Pirates lurk at every corner. Kaptain Brawe, a Space Police officer will embark on a journey filled with quests, conspiracies and general chaos, as he follows the lead of two kidnapped alien scientists.
» Full game details