A full overview of all adventure games released in the Inherit the Earth Series. These can be episodes, remakes/remasters or sequels, created by either one or several companies. As long as the IP is used, we'd quantify this as part of a 'series'.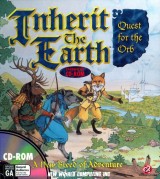 Join Rif the fox and his companions Okk and Eeah on the adventure of YOUR life! Inherit the Earth will transport you to a world of beauty and intrigue… Earth! The Orb of Storms has been stolen, and Rif is accused. You have only ten days to help Rif get to the bottom of the mystery of the m...
» Full game details
iPad, iPhone/iPod Touch, Mac, PC, Linux
The Morph Tribes of the Known Lands continue their efforts to live with the apparent destruction of the Orb of Storms, an artifact they once used to predict the weather. There are rumors of the Orb's survival, but none are credible. Even Rif the Fox, who tried to retrieve the stolen Orb, disco...
» Full game details