A full overview of all adventure games released in the Pledge Quest Series. These can be episodes, remakes/remasters or sequels, created by either one or several companies. As long as the IP is used, we'd quantify this as part of a 'series'.


Developed by Akril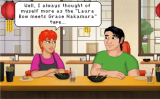 Having donated to the SpaceVenture Kickstarter, Bea has lunch at a local noodle shop with her boyfriend, Roger. Suddenly he loses all memory of the SpaceVenture and the Space Quest series of games. It seems that Bea's cat, Vohaul, thinks her money should be spent on cat toys and tuna rathe...
» Full game details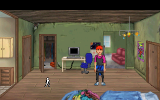 Long-time Space Quest fan, Bea, wants to make a pledge to the SpaceVenture project Kickstarter. Unfortunately her computer power cable has been chewed and her credit card is missing. Bea must use all her adventure gaming instincts to solve these problems if she is going to get her pledge in.
» Full game details