Legend of Kyrandia Series
A full overview of all adventure games released in the Legend of Kyrandia Series. These can be episodes, remakes/remasters or sequels, created by either one or several companies. As long as the IP is used, we'd quantify this as part of a 'series'.


Kyrandia is a land of dark mysterious forests and sleeping dragons. A fantasy land where rubies grow on trees and magic abounds. Who would imagine that a land so idyllic would spawn a murderer so demented? Some say the court jester Malcolm was mad to begin with. Others that it was his burning de...
» Full game details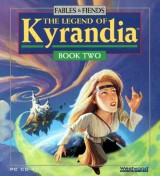 The land of Kyrandia is disappearing piece by piece and you are the offbeat, young mystic who must voyage to the center of the world to break the curse and save it. Your surreal journey will twist even the sharpest of minds.
» Full game details